We have another "Daisy" to congratulate…Kristin Henry, RN, a nurse in the Surgery Unit here at Riverview.
The Daisy Award was established by the family of J. Patrick Barnes as a way to honor nurses who go above and beyond the call of duty. The Daisy award is given at Riverview – and hundreds of other hospitals across the country – on a quarterly basis. Patients, family members, visitors, staff members, and volunteers can nominate a nurse for a Daisy Award.
Kristin was one of the 14 nurses nominated for the award this quarter. She was recognized for excellence in service, attitude, teamwork and safety. The nominee noted Kristin as being a great patient advocate. In particular, Kristin recently cared for a surgery patient and took additional proactive steps to ensure the patient's safety, care and outcome. Through doing so, Kristin identified and treated a secondary condition in its early stage that the patient had developed and she and collaborated with another unit to take protective measures. Kristin's manager, Amy Roth, noted, "Above all else, Kristin delivered the kind of attention and compassionate care patients at Riverview can expect to receive. Bravo!"
Nominees included: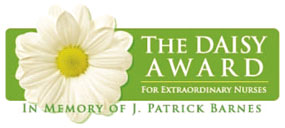 Rhonda Hartnagel, OR
Tina Carman, OR
Barb Behrends, MC
Maria Cline, SSC
Tammi Knight, SSC
Kim Stevenson, SSC
Sarah Webb, SSC
Joan Gabrielle, 3W
Lora Hodson, 3W
Diane Kenworthy, 3W
Kristen Fowler, 3W
Norma Barley, Rehab
Jeff Scott, 3W
Interested in nominating a nurse? You can do so here.