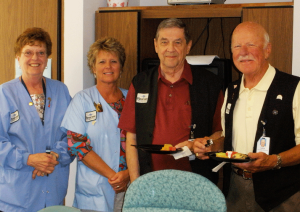 This week, as part of National Volunteer Week, we celebrate and recognize the wonderful group of volunteers here at Riverview. Our volunteers are truly awesome. They are some of the first people you see when you come in our entrances, they are the friendly and reassuring faces you see when you are being transported throughout the hospital as a patient, and they are the ones who often work behind the scenes to ensure supplies are organized and patient rooms are equipped and ready. In so many ways, Riverview just wouldn't be the same without them!
Volunteer services at Riverview began with the Red Cross Gray Ladies in 1953. Since that time, our volunteer base has continued to grow into what it is today. Last year, our team of 224 volunteers (to be exact) dedicated almost 44,000 total hours of their time to serve the staff and patients here. Since 1953, the total number of volunteer hours donated is nearly 1 million! And it keeps going! Many of our volunteers are also a part of the Riverview Auxiliary – a group that raises money for Riverview Hospital through events including an annual style show and luncheon, book, jewelry, and scrub sales and an annual Holiday bazaar, as well as our volunteer-managed gift shop.
Last year, Auxiliary volunteers raised and donated $40,000 to Riverview. And in total (since its beginnings), the Riverview Auxiliary has raised and donated nearly $1.2 million to Riverview. Pretty impressive! Funds donated last year went toward the Riverview Hospital Foundation's 4.6 million "Heart of Your Community" Cardiology campaign. In previous years, donated funds have helped pay for diagnostic equipment throughout the hospital, patient services and education, supplies such as wheel chairs, patient beds and blanket warmers, building enhancements, and much more.
Last year, we were able to recognize and celebrate 50 years of volunteer service by our own Isabelle Harger! She started volunteering at Riverview as a Red Cross Gray Lady and retired from volunteering last year, at age 97.
We know our volunteers could be doing many other things with their time, but they choose to come to Riverview to serve their community. Sure, it's nice to have camaraderie, but our volunteers always tell us they are here because they want to make a difference. And they certainly do.
So who are these volunteers of ours? Take a look: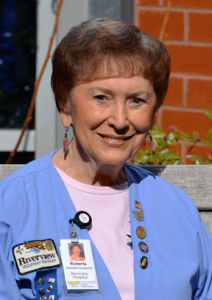 Roberta Huff
Roberta has been a volunteer at Riverview since 1989. She grew up in Sheridan, Ind. She worked for Chrysler Corporation in Indianapolis as a secretary for 29 years and raised two sons with her husband Fred, who worked for Western Electric. She retired from Chrysler in 1988 and wanted to do something meaningful with her time – something that would offer a sense of fellowship while helping her community. So she chose Riverview where she currently serves as a patient transporter. She has donated more than 4,000 hours of her time to us since she began volunteering. She currently lives in Noblesville and really enjoys it. She also volunteers for the Sheridan Historical Society and is a member of Radiant Christian Life Church in Westfield. She enjoys spending time with her children and her five grandchildren.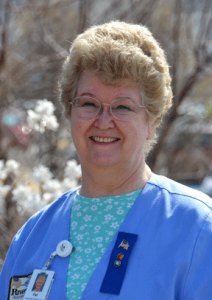 Pat Siegman
Pat has been a volunteer at Riverview for four years. For 20 years, Pat taught Title 1 (a program to improve the academic achievement of the disadvantaged) in various Noblesville-area elementary schools. She currently volunteers at Riverview as a patient transporter. She also spends a lot of her time knitting baby blankets, hats, booties and other items for the Riverview Auxiliary's Touch of Love program, which she first learned about at her church – First Christian Church in Noblesville. She is a member of the Purdue Extension Program Homemaker's Club and has four children and four grandchildren.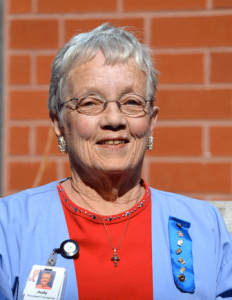 Judy Williams
Judy has been a volunteer at Riverview since 1988. She was born in Indianapolis and attended Broad Ripple High School. She is a mother to one son and one daughter. She worked for GTE as a switchboard operator for 10 years, and her husband was in the banking industry. She relocated to Noblesville and chose to volunteer at Riverview because she wanted to donate her time to help others in her community. To date, Judy has donated nearly 7,000 hours of her time! Judy currently volunteers at the atrium information desk. She has also served as a patient transporter. She enjoys spending time with her children, six grandchildren and three great grandchildren. She attends First United Methodist Church in Noblesville and sits on the board of the United Methodist Women's group.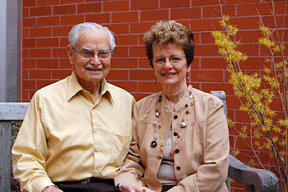 Sharon and Duane Monical are a great husband/wife volunteer team! Duane has been volunteering for two years while Sharon has been volunteering for 11 years. Although their jobs differ, they both feel the same about one thing — the benefits of volunteering. They say there is satisfaction in giving back and being of service to people. They also think volunteering is good physically and mentally and they enjoy the friendships they have developed with the other volunteers. Duane enjoys meeting so many people and says it is nice just knowing he is appreciated. We love the Monicals!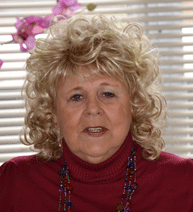 Become a Volunteer!
Are you (or is someone you know) interested in becoming a volunteer at Riverview? If so, contact Jill Fleenor, Director of Volunteer Services at (317) 776-7236 or jfleenor@riverview.org.
Check out our volunteer opportunities…there is truly something for everyone!