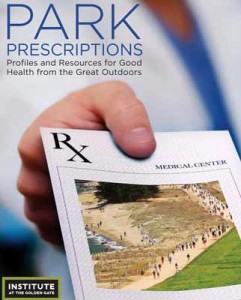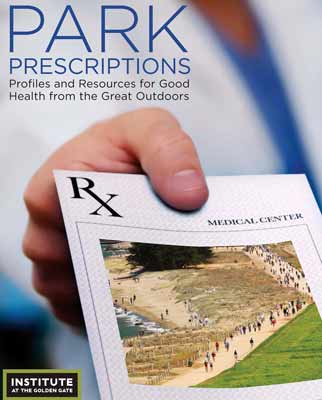 We've heard it before…we all need to get up and move more. No one is exempt – not us, our kids, nor our parents. We know, we know – but how many of us have treadmills, stairclimbers or another piece of expensive fitness equipment in our homes that is currently serving as: a) a coatrack, b) a cluttered catch-all, or c) is simply sitting by its lonesome gathering dust by the minute? And let's not get started on those unused gym memberships. Knowing doesn't equal doing, and we pay for it with larger waistlines or hitting that dreaded number on the scale. It happens…but it's never too late to turn it around. A walk in the park might be just what the doctor ordered!
Consider a new initiative catching on throughout the country: park prescriptions. Doctors are literally medicating their patients with nature in order to help prevent (or treat) health problems resulting from inactivity and poor diet. Riverview Hospital physicians are on board with this initiative to help our patients get healthier…one step at a time. Many of our physicians say that if they can get their patients outdoors, they are more likely to be consistent about exercise. They can run, walk, or waddle…simply going out and exercising helps build confidence, flexibility and adaptability.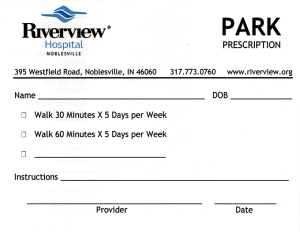 If anyone can get us to get up and do something, it's our doctor. "It wasn't until I started walking the three-mile trail in the park near my house that I got serious about exercising. I do it now rain or shine. I love the fresh air. The best part is that I get a great workout and don't even mind sweating," said Miriam, a patient of a physician who gave her a park prescription.
"Park prescriptions are a great way to try and get patients moving in pleasant surroundings. The great outdoors is a natural stress reducer. Exercise, as simple as walking, decreases stress, elevates moods, decreases blood pressure, strengthens mobility, and helps improve balance issues. Using the park prescription as any other medication prescription shows how serious we are about helping people move towards a healthier lifestyle," explains Elizabeth Hanrahan, a nurse practitioner with Riverview WorkMed Occupational Health East. "The park prescription helps me help patients who come in asking what they need to do to become healthier. I can check off an appropriate box or write in what I would like them to start doing."
Here's how it works: during a visit to your physician, he/she identifies a health concern. In addition or as an alternative to a prescription for medications, your Riverview physician may hand you a park prescription. Instructions will be written on the front of the prescription by your doctor and as a reference, the park address and website address of many local parks/green spaces are listed on the back of the prescription. An example of a park prescription might be "walk 30 minutes, five days a week." Simple, right?
Many people do not think of the free public land we have at our disposal. And, there is clear evidence that increased physical activity reduces obesity, chronic disease, and stress. The key is to focus more on prevention, and park prescriptions are a great step in the right direction.
For more information about the park prescription program or ways that you can add wellness into your workplace, contact Riverview Hospital Wellness Coordinator, Kristin Lamb at klamb@riverview.org.
To learn more about other health resources that support Hoosiers seeking to lead healthier lives, visit InShape Indiana. You can use their-by-county list to locate a park, trail, farmer's market, YMCA, public facility, community program, neighborhood garden or annual run/walk event near you.
Also, check out these local green spaces:
Hamilton County Parks
Noblesville Parks & Recreation
Westfield Parks & Recreation
Fishers Parks & Recreation