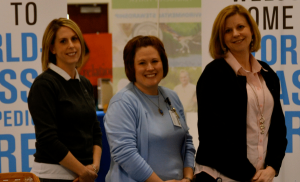 On March 29 from 4:30 to 7 p.m., more than 500 visitors had the opportunity to meet many Noblesville business/restaurant owners and their employees and to learn about the vast array of organizations that operate in Noblesville as members of the Noblesville Chamber of Commerce at the annual "A Taste of Business" expo.
"A Taste of Business" in Noblesville is held by the Noblesville Chamber each year. This popular event offers music, food, raffles and drawings as well as information and giveaways from more than 80 Chamber member businesses. The event takes place at the Hamilton County Fairgrounds: 2003 Pleasant St. in Noblesville. "A Taste of Business" is now in its 10th year and has grown substantially each year – a testament to the growth of Noblesville and Hamilton County.
Riverview participated as a Best of Show sponsor for the event along with Community Bank. Our employees were on hand to provide coupons for discounted health screenings as well as information on our vast array of offerings, upcoming events, and much more. In addition, we offered visitors a serving of a Mixed Berry Ambrosia pudding made by our dietary staff. Representatives from the Riverview Hospital Foundation offered information on their many upcoming events, including the popular Women of Vision Luncheon in April.
Check out our upcoming events and seminars!