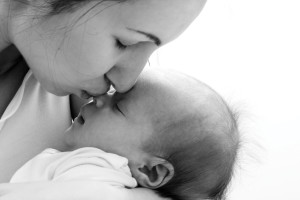 By Amy Gardner, RNC-OB, MSN
Department Manager, Riverview Health Maternity Center
As an expecting mom, there's bound to be a lot on your mind. One thing that may not be on the top of the list, but should be considered, is donating or saving the cord blood of your newborn baby. Without knowing all the facts, this may sound like an odd process. But did you know cells collected from umbilical cord blood can be used in children and adults to treat more than 75 life-threatening diseases, including leukemia, anemia and lymphoma? In fact, thousands of Americans affected by such diseases search through donation registries on a daily basis, hoping to find a match.
Donating or saving this valuable resource is done with your consent only after the safe delivery of your baby. More importantly, this process poses no risk or pain to you or your baby.
So, what's the difference between donating and saving cord blood?
Women today can either donate their newborn's cord blood for public use, or bank it privately, which can be saved for personal use in the future. With banking, only the family will have access or permission to use the saved cord blood, unlike donating.
If you prefer to do private cord blood banking, you'll need to make arrangements with a private company and bring the cord blood collection kit to the hospital. The nurses and physician delivering your baby will do the collection, and then you'll be responsible for arranging a courier to pick up the cord blood.
There's no cost to do public donation, but there's a cost associated with private cord blood banking, which varies by company and length of time the cord blood will be stored. Riverview Health has partnered with Lifeline Stem Cell to offer public cord blood donation collection services to all new moms.
When do I need to make a decision about cord blood donating or saving?
The decision to donate your baby's cord blood can be made as late as the day of birth. Private banking requires enough planning so the kit can be sent to you prior to delivery. The amount of time needed to plan for private cord blood banking varies depending on the company.
How can I learn more?
Women interested in publicly donating or privately saving cord blood after giving birth at Riverview Health should discuss doing so with their obstetricians.
For more information, check out these great resources:
---
Do you need an OB/GYN specialist? We have several board certified OB/GYN physicians who are currently accepting new patients at Riverview Health.