By Bailey Personette, RD, CD, Wellness Dietitian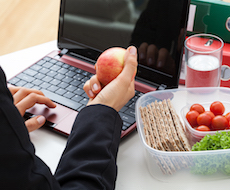 These days everything seems to be go, go go. But just because you're busy doesn't mean your eating habits have to suffer. Here are some ideas to try the next time you need a healthy snack on-the-go.
Banana and peanut butter: Portion out 2 tablespoons of peanut butter or buy mini pre-packaged peanut butter containers to keep in your cabinets for a quick snack to grab on the go.
Hard-boiled egg: Boil a dozen eggs at the start of the week and store them in the fridge. Eggs are a great source of protein and will provide you with several key nutrients.
Mixed nuts: Portion out ¼ cup of mixed nuts into snack bags. This way you don't have to worry about portioning them out or worrying about overeating when you are in a rush.
Greek yogurt: Depending where you are going and if you have a spoon on hand, Greek yogurt is a great snack loaded with lots of protein and some carbohydrates to provide you a well-balanced snack that will hold you over until your next meal.
String cheese: Cheese is a quick way to get a burst of protein when on the go. Pair it with a fruit for a delicious, well-balanced snack that contains some protein, carbohydrates and fat.
Tuna and crackers: A packet of tuna combined with a few whole grain crackers is a mini meal that will fill you up and give you energy to finish out your day strong.
Popcorn: Popping popcorn or buying no-butter, salt-free popcorn and portioning it into bags is a great way to satisfy your craving for something crunchy, while staying away from all the calories that come with eating chips.
Whole grain crackers and peanut butter: This snack provides high-quality protein with a serving of whole grains and some carbohydrates.
Kind bar: Kind offers several varieties of bars, but the Kind protein bars specifically contain enough protein to keep you full until your next meal.
Almonds and fruit: Keep pre-portioned snack bags of almonds at home, in your car, and at your desk to ensure you are never without a quick snack. Pair them with a piece of fruit for a healthy combo.