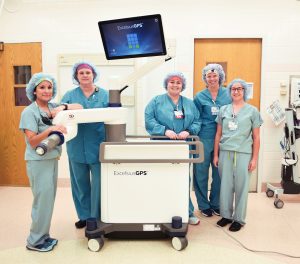 Riverview Health recently became a leader in the field of robotic guidance and navigation with the purchase of the ExcelsiusGPS robot.
ExcelsiusGPS is a robotic spinal navigation system designed to increase safety and accuracy within the operating room. It provides improved visualization of patient anatomy throughout the procedure to help optimize patient treatment. It also streamlines surgical workflow and reduces overall radiation exposure to surgeons and staff. Riverview Health is the first hospital in Indiana to offer this technology.
"We're committed to providing the highest quality of care for our patients, which includes investing in the latest technologies," said Seth Warren, president and CEO of Riverview Health. "We're excited about the new opportunities ExcelsiusGPS brings to the field of minimally invasive spine surgery, robotics and navigation."
Dr. Praveen Perni, an orthopedic surgeon at Riverview Health Westfield Hospital, uses the ExcelsiusGPS for back surgeries— specifically those needing a lumbar fusion or low back surgery for spinal instability, scoliosis, or leg or back pain.
"The ExcelsiusGPS allows me to make smaller incisions, which means less muscle trauma," Dr. Perni said. "This also means less blood loss, shorter hospital stays, quicker recoveries and less pain. I've been using the system for a few months, and I've seen excellent results for my patients during this time."
Dr. Perni performed a back surgery on Ladoga, IN resident Sandra Trent last fall using the ExcelsiusGPS. For the six months prior to her surgery, it was difficult for her to get out of bed without screaming in pain.
However, immediately following the surgery, her pain was gone. She was hospitalized briefly and has been recovering well since.
"My husband had back surgery several years ago," Sandra said. "My healing time is amazing compared to what he went through. He has several large scars, and I have two little incisions."
While Sandra saw a pain management doctor for several years and relied on Advil and hydrocodone to get through each day, she hasn't had to take any pain medications since the surgery. She's looking forward to riding motorcycles with her husband again and getting down on the floor to play with her grandchildren.
"Dr. Perni is amazing," Sandra said. "He has so much compassion and he sits and listens to what you say."
Dr. Perni has an office and performs surgeries at Riverview Health Westfield Hospital. For more information, please visit riverview.org/robotic-spine-surgery.