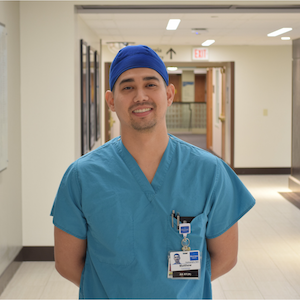 Some people have a single career interest. Others with multiple interests, like Matt Winn, decide to explore several options before selecting a career best suited for them. Matt, a radiologic technologist at Riverview Health, is ecstatic to have found his dream job as a result of exploring several different fields and meeting many influential people.
A graduate of Warren Central High School, Matt attended the Indiana State University, where he studied criminology. After a short time studying at ISU, Matt traveled to Korea and stayed with family members while pursuing an acting career until he returned to the U.S.
Inspired to try new things after his experiences abroad, Matt attended culinary school and practiced in the culinary field for two and a half years. "I loved the high intensity, controlled chaos and serving people," Matt said.
Despite his interest in the industry, Matt believed a culinary career would not be conducive to family life and soon began exploring other options. When Matt's cousin, a nurse, recommended he apply for a radiologic technologist program, he was intrigued. "I heeded her words and took a shot!" Matt explained.
After graduating with an associate's degree in Science from Ivy Tech, Matt enrolled in a local radiologic technology program. "Throughout the program I was intrigued with radiology and felt like it truly was a good fit for me in all aspects," Matt recalled.
Matt was introduced to Riverview Health because the hospital partnered with his radiologic technology program. Just a month before graduation, he chose to observe the Riverview Health General Radiology, MRI and Cath lab departments. "After having a taste of what the environment of the Cath lab was like, I was hooked," Matt said. "The high intensity reminded me of my time working in culinary."
While completing clinical requirements at Riverview Health, Matt became familiar with the facility and staff. As a result, he obtained a PRN position in general radiology. His positive attitude and persistence earned him a radiologic technologist position in the Cath lab a few months later. "I told myself 'if this is it, I'm going after it full force'," he said.
Angie Bolinger, director of cardiovascular and cancer services at Riverview Health, was immediately impressed with Matt. "His persistence and overall passion for the Cath lab was overwhelming," Angie stated. "After only a few interactions with him, it was obvious he belonged there."
Matt has been a member of the Riverview Health team for four years now and can't imagine working anywhere else. "Riverview Health is great, and my boss is awesome," he said. "She's encouraging and helps me grow, not only as an employee, but as an individual."
Matt credits his family for the focus and dedication he has for his career in Radiologic Technology. "My wife and kids definitely encourage me," Matt said. "They are the main reason I chose to enroll in the rad tech program and continue to motivate me on a daily basis. I wouldn't be anywhere without their love and support."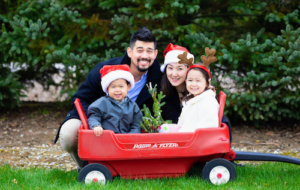 Matt has pursued many interests throughout his life, but believes his true calling is to work as a radiologic technologist in the Cath lab at Riverview Health. He has a true passion for his work and enjoys the variety of tasks he and his colleagues perform when treating patients on a daily basis.
When asked about his favorite part of being a radiologic technologist, Matt stated, "We work to improve and save lives everyday – I feel like a superhero!"