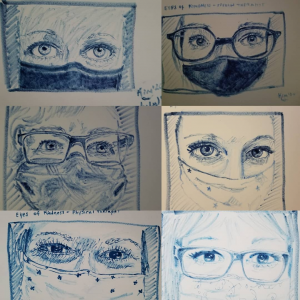 Kim Hogge pulls her sketchbooks out of her bag and opens them to display the work inside. The sketches start simple—the outline of a face with nothing more than eyes, a nose and a mouth. Some of the drawings are even a little sloppy, while others more precise. But as you flip through the sketchbook, the story begins to evolve; the drawings become more complex, vibrantly blue and show masked individuals with smiling eyes. Behind the masks, the faces are familiar to Kim—they are her therapists at Riverview Health Rehab & Fitness.
The portraits are part of a project Kim titled "Eyes of Kindness," an undertaking she says helped her heal after having a stroke in the midst of the COVID-19 pandemic.
On the morning of May 12, Kim woke up early to go to the restroom and noticed something wasn't right.
"While in the restroom I felt very unsteady, and I'm always steady," Kim recalled. "I made my way back to bed and when I woke up, I still felt off."
As someone who rollerblades as a hobby, feeling off-balance was unusual for Kim. She pushed her doubts aside, though, and attempted to go about her day as usual.
"I am an art teacher at Sheridan High School, and it was our last week of e-learning, so I had a lot to do," Kim said. "When I got on the computer, I realized I could only use my pointer finger on my right hand. I also couldn't speak very well, and I remember telling my husband 'I feel off.'"
Kim's husband told her if she wasn't better by the following day, they needed to call the doctor. By the next morning, Kim was still having issues talking and using her right side, so her husband called their family medicine physician.
"When the doctor asked my name, I realized I couldn't say it," Kim said. "My husband told them he thought I had had a stroke, and we were advised to get an MRI scan."
The MRI scan revealed what Kim and her husband suspected—she had suffered from a brain stem stroke, and she was advised to go to Riverview Health in Noblesville to be admitted for treatment.
"I could walk, but I was not very stable. And when I first started talking, I sounded like a two-year-old. I stuttered. My voice is very different now than before," Kim said.
To help heal, Kim started physical, occupational and speech therapy at Riverview Health Rehab & Fitness in Noblesville. During her sessions, Kim and her therapy team focused on building her strength and language skills so she could do the things she loved again like drawing, rollerblading and teaching art classes.
"At her initial evaluation, Kim's husband joined her, and he stated, 'We will do anything we need to do; just tell us' and they did," said Riverview Health occupational therapist Jenn Lewis. "Each session Kim would come in with stories of what she had done that week and new challenges that she would face during day-to day-activities. Kim never slowed down or stopped trying, and that really played to her advantage."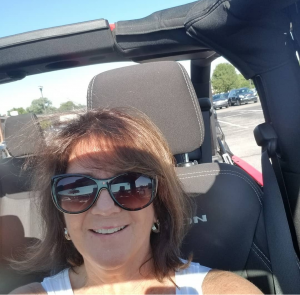 Kim made excellent progress, and at the completion of her physical and occupational therapy programs she led an art class with her therapists to show them how to make a balloon animal.
Next, Kim wanted to improve her speech skills. Originally from Alabama, Kim has always had a southern accent. But after the stroke, something in Kim's brain changed—and so did the way her voice sounded.
"Some people have told me I sound Romanian now. My neurologist was so surprised," Kim said.
"Kim's speech treatment consisted of helping her use strategies and techniques to restore normal language functioning," said Carah Sullenbarger, a speech language pathologist at Riverview Health. "She has improved tremendously and has gone from a severe impairment to a mild impairment."
Outside of therapy, Kim is creative with how she works around her weaknesses. She is right-handed, so losing function on that side of her body made drawing difficult.
"My oldest son is an artist, and he asked me to try drawing with my left hand instead," Kim said. "So, I began the journey of using both hands every single day. I would get up early and draw at 6 a.m. without distractions. It was like a morning devotion. I would draw and pray at the same time and it helped me a lot.""
At first her drawings were sloppy, but Kim has since mastered the skill and is able to draw with both hands. After regaining her skills, Kim felt called to draw her caregivers.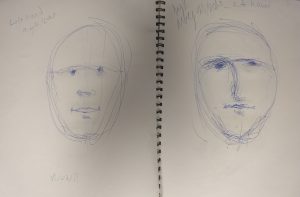 "Because of COVID-19, during therapy we all had masks on," Kim recalled. "All I could see were their eyes—their kind eyes. Even when I was feeling bad, they always had kind eyes. The trick to capturing the eye is the reflection. It was like God had captured my attention to see something I hadn't seen before."
While Kim still has more healing to do, she is proud of her progress and the goals she has reached. She is back to teaching art at Sheridan High School, rollerblading on the Monon, and driving her stick shift jeep.
When asked what advice she has for other patients who are recovering from a stroke, Kim urged them to not hold back from their goals.
"What is something normal that you want to get back to? Don't be afraid to have that goal—the therapists are very caring, and they will help you get there. Don't settle."