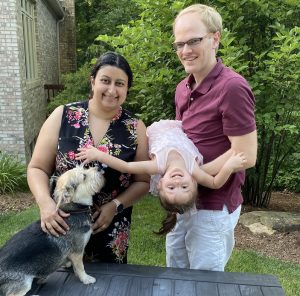 Meet Neha Yakhmi, MD, an allergy and immunology physician at Riverview Health Physicians Allergy & Immunology. Whether you have a concern regarding asthma, environmental allergies or immune deficiency, Dr. Yakhmi can provide the support you need.
As a new physician at Riverview Health, we decided to ask Dr. Yakhmi a few questions to get to know her better.
Q. What other career paths did you consider before you decided to become a physician?
A. I also wanted to be a writer; I decided that when I was about six years old. But as I grew older, I knew it wasn't something I could do full time—I was afraid I would start to hate writing if my livelihood depended on it. I still write for fun, and I still dream of getting a book published, but I'll admit that has been on the backburner lately. I also thought strongly about teaching (Spanish, specifically) and even interviewed for a couple positions before I decided that medicine was the place where I could combine many of my interests and do the greatest good.
Q. How did you pick your specialty?
A. I always enjoyed seeing the full spectrum of ages, from infants on. When I started medical school, I thought the only way to do that was primary care. I considered other specialties, but it kept coming back to the same fact: I wanted to see patients of all ages. That led me to a combined residency in internal medicine and pediatrics in Houston. But in my second year of residency, I had the opportunity to do a rotation in allergy and immunology. During that rotation I saw that all of the things I loved in primary care—the full spectrum of ages, continuity of care and personal relationships with patients—were all there. In addition, the field has incredible breadth and is rapidly changing. It is a really exciting time to be in this specialty.
Q. What are your goals as a physician?
A. I want to provide high-quality, high-value care to my patients. I want them to leave each office visit feeling positive, empowered and informed. I want to have great relationships with my patients and continue to care for them throughout the various stages of their lives.
Q. What makes you unique as a provider?
A. I am a listener. You learn so much more about people from just listening than you can from asking simple questions. In a field such as allergy and immunology, where the history is more important than any test, listening is key.
Q. How have your patients influenced your life?
A. I've seen so many patients throughout my training, and now in my career. The patients who stick with me the most are the patients who have fallen through the cracks in our system, where society, or healthcare, or even their families have failed. These patients were struggling through no fault of their own—they either didn't qualify for health insurance, or they were children whose parents didn't understand the severity of their disease or their luck had run out. It's made me even more determined to advocate for them.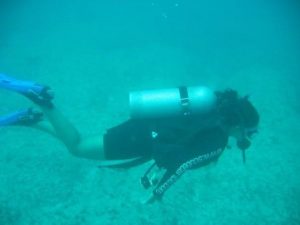 Q. When you aren't seeing patients, what do you like to do for fun?
A. I love spending time with my family, exploring new places and traveling. I also love reading, writing and anything involving water—swimming, kayaking, you name it.
Q. What is your favorite movie?
A. This is a tough one. I don't watch movies all that often, but I do binge Netflix shows. The latest were Sweet Magnolias and the Santa Clarita Diet.
Q. What is your favorite book?
A. This is so hard for someone who loves to read! I'll stick with a couple genres: chick lit for light, easy, reading; and then contemporary fiction with multiple layers (think The Time Traveler's Wife).
Q. What is your favorite genre of music?
A. A little bit of everything—Top 40, rock, R&B and sometimes even country.
Q. What are some fun facts about you?
A. I'm a certified open water diver (although it's been a few years since my last scuba diving adventure). I also spent a semester abroad in Madrid in college, and while I was incredibly homesick at first, it was one of the most amazing and eye-opening experiences of my life.
If you would like to schedule an appointment with Dr. Yakhmi, call 317.214.5725.