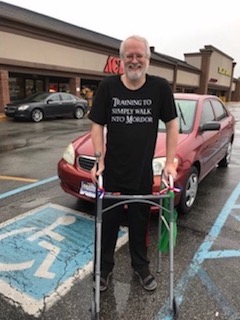 Noblesville resident James D. Anderson (JD) is a proud band parent. His son, Connor, is a percussionist in the Noblesville High School band. Someone who loves being involved with his community, JD volunteers to help build props for the band's halftime shows. It's something he loves doing and continues to do—even after a traumatic accident he experienced in August of 2018.
After a football game halftime show, JD was walking with other band volunteers from the football field back to the high school. Because the stadium and high school are in separate locations, volunteers had to walk on the street to get back.
The volunteers looked both ways to ensure no cars were coming, then began to cross the street. JD positioned himself behind the prop trailer to make sure nothing fell off, but as they walked, JD was suddenly struck from behind by a vehicle.
"We have no idea where the car came from," JD said. "It tossed me to the side and then plowed into the back of the prop trailer. I ended up landing face down on the side of the road."
In intense pain, JD's biggest fear at that point was being moved. Thankfully, one of the other volunteers who had come to JD's side made sure no one attempted to touch him until emergency personnel were on site. Once the fire department and police arrived, they were able to successfully turn him over onto his back and get him into an ambulance.
"When I was in the ambulance, I could feel my toes move, so I knew that was a good sign," JD said.
While JD didn't have a scratch from the knees up, below his knees were a different story. Examination after the accident revealed that both of JD's legs had multiple tibia and fibula fractures, and his right foot was fractured as well. He underwent surgery that night to have rods placed from his knees to his ankles.
After the surgery, there was discussion of JD being placed in a rehab facility due to his inability to access his home without a wheelchair ramp. Eager to come home, JD didn't like the idea. He didn't need to worry, though, because his friends in the Noblesville High School band stepped in.
"They knew the only thing keeping me from coming home was a lack of a ramp, so all the band families got together and built me a 22-foot-long wheelchair ramp that was ADA compliant. Because of their help I was able to go home directly after surgery, which I was incredibly grateful for," JD said.
Ready to get back to normal activities, JD worked hard during his home therapy sessions. Eventually he was able to master his basic needs—such as using a walker and climbing his stairs so he could shower— and JD graduated to outpatient therapy at Riverview Health Rehab & Fitness in Noblesville.
"Our goal in therapy was to help him walk with a normal gait pattern and for him to eventually be able to walk without an assistive device," said Riverview Health physical therapist Jennifer Fehlinger. "We also worked on lowering his pain and regaining normal function. In short, we wanted to help him get his life back."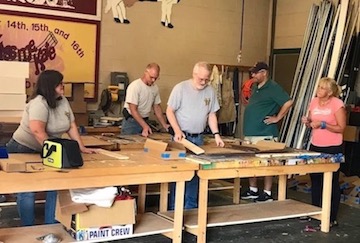 During therapy JD worked through a combination of therapeutic exercises, manual therapy, neuromuscular re-education and gait training. Manual therapy was done to improve the many soft tissue restrictions in his lower legs, as well as to improve the mobility of his ankles and knees.
"My experience with rehab at Riverview Health was excellent. The therapists were constantly adjusting what I was doing so I made the most progress. It wasn't just something they robotically did, my care was personalized," JD said.
While therapy was hard and painful at times, JD was determined to excel—and it showed.
"Despite having high levels of pain, JD always kept a positive attitude," Jennifer said. "He never stayed focus on his deficits. He asked questions when he wasn't sure about something, and really put forth 110 percent during our sessions. He always seemed to have a smile on his face."
JD managed to have a good sense of humor while in therapy, too.
"It isn't very common to have someone in therapy who has not one, but two broken legs," JD recalled. "When we'd start a new exercise, sometimes the therapists would momentarily forget and say something like 'now start with your good leg,'" JD chuckled. "I didn't have a good leg."
JD's attitude and work paid off. He is now able to walk without any assistive devices and is getting back to the activities he loves—like volunteering for the band and supporting his son during performances.
"The accident was just another challenge to go through," JD said. "You have an endless supply of those in life. This one was a little more annoying than others, but you still have to get up and go. One of the things on the walls in rehab said, 'Just keep moving,' and that stuck with me. It became obvious that if I didn't keep moving, I wouldn't move. The more I did, the faster I would recover."