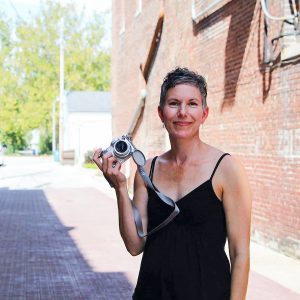 Noblesville resident Jenni Backs had just finished a meeting at her church, Our Lady of Grace, on the evening of Monday, Aug. 27, 2018. She stopped by the Noblesville Wal-Mart to grab a few items before heading home. Little did Jenni know, her evening was about to go from normal to traumatic.
Jenni stopped to look both ways before crossing parking lot traffic. As she did, a driver coming from the right turned too sharply and struck her.
"I remember a flash of blue and my hand going up," Jenni recalled. "The next thing I knew, I sat up and screamed for the driver to get off of me because the car was on my foot."
When the driver backed up, Jenni went into shock. She remembers pulling her left arm over herself. She could already feel it start to swell and she knew in her gut that her arm was broken.
X-rays after the accident confirmed Jenni's fears—her elbow was shattered into six pieces. She also sustained wounds to her right foot, where the tire had pinned it.
The morning after the accident, Jenni underwent surgery at Riverview Health to stabilize her left arm. Orthopedic surgeon Christy Kellams, MD, who specializes in upper-extremity surgeries, performed the operation.
"Jenni suffered from a proximal ulna bone fracture and required a plate and screws to hold the fracture anatomically aligned while it healed," Dr. Kellams said. "My goal for her was to regain full, pain-free motion in her elbow, which is critical for upper-extremity functioning. Fortunately, we achieved great alignment during her surgery."
After her surgical success, Jenni began rehabilitation at Riverview Health outpatient therapy. An active individual, Jenni was ready to start the recovery process so she could get back to some of her favorite pastimes—photography and yoga.
"Working with Jenni was a team effort that required collaboration of occupational therapy and physical therapy to ensure best quality care," said Riverview Health occupational therapist Jenn Lewis. "After 35 visits, we were excited to be able to guide her through yoga poses—one of her favorite hobbies—to obtain the last few degrees of range of motion and to gain functional strength."
Jenni's evaluating physical therapist, Jennifer Butts, found more than just a foot issue during her examination of Jenni.
"When Jenni's right foot was injured, it changed her gait resulting in issues with her right knee and hip. Her neck and left shoulder were also impacted by the fall that caused the elbow fractures," Jennifer said.
Jennifer also noted how "ramped up" her patient's entire nervous system was.
"She was anxious, guarded and hypersensitive to most any touch or movement," Jennifer said. To help ease this tension, Jennifer felt that Jenni might benefit from craniosacral therapy (CST), a non-invasive, hands-on therapy using light touch.
"Craniosacral therapy monitors very subtle changes to a patient's tissues and helps facilitate the body's natural healing processes," said Riverview Health physical therapist Amy Miller Reusze. "When someone has been through trauma their nervous system can be on high alert. CST can help induce the parasympathetic portion of the nervous system. This allows the entire body to enter a state of restoration."
Jenni had the hardware in her arm surgically removed in April and has once again picked up occupational therapy to strengthen her arm. While her journey is not yet complete, she is ready to tackle the coming challenges with her therapy team by her side. "
To say the therapists have kept things positive would be an understatement," Jenni said. "I felt a profound sense of safety at Riverview Health and knew they were taking care of me. The combination of physical, occupational and craniosacral therapy makes me think of Riverview Health as on the leading-edge of holistic treatment. They care for the entire person."