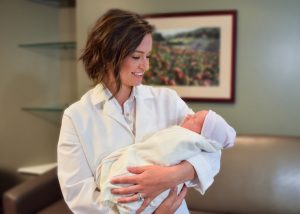 Meet Rachel Davenport, MD, an OB/GYN physician at Riverview Health Physicians OB/GYN. Becoming a doctor was always the plan for Dr. Davenport, even as a little girl. She remembers using the toy doctor set her parents bought her and pretending to play doctor with her stuffed animals.
"Because I knew at a young age, my path was pretty clear all the way to medical
school," Dr. Davenport said.
Although she felt becoming a doctor was her calling, it wasn't until about halfway
through medical school that she chose to focus on obstetrics and gynecology.
"I didn't really have a great understanding of OB/GYN at the time and thought it
didn't cross over with other specialties I was interested in," Dr. Davenport recalled.
"So, I considered cardiology at first."
Not only was she uninterested in OB/GYN, it was at the bottom of her list when
choosing her rotations. Then, when she was assigned her rotations, OB/GYN
happened to be first up. While she wasn't thrilled, she thought she would at least get
it out of the way early and move onto something more interesting. But it didn't take
long for Dr. Davenport to fall in love with it.
"I just remember thinking soon after my rotation started that I can't believeOB/GYNs get to do this kind of work on a daily basis," Dr. Davenport said. "As an OB/GYN doctor, you're able to empower women through education and help them make important healthcare decisions, as well as deliver babies."
It was a done deal. She knew this was what she wanted to do, and no other rotation could compare to her great experience with OB/GYN. Dr. Davenport is now even more confident she made the right decision. As a practicing OB/GYN physician, she's had the opportunity to guide women by educating them and helping them to make the right healthcare choices for themselves—some of which can be life-changing.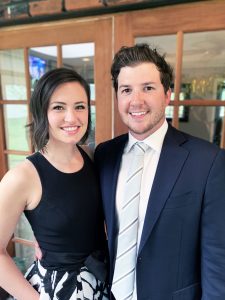 Dr. Davenport describes being an OB/GYN as being someone who can help women through their own unique journeys. Whether it's assisting a patient with treating her heavy periods, or walking her through her pregnancy, Dr. Davenport is happy to do it all.
Being an OB/GYN in Noblesville is also meaningful for Dr. Davenport because her husband, Keaton, was born and raised in the community. Unlike Dr. Davenport, Keaton's career path wasn't so straightforward. After working at his family's business for years and planning to eventually take it over, Keaton changed his path. He decided he wanted to pursue a career in an entirely new industry—construction and home renovation. Given he had no prior experience in this field, the change came as a complete surprise to his family and friends.
But just as Dr. Davenport had followed her passion, Keaton knew this is what he wanted to do. After countless hours of reading books and learning special software to create construction drawings, Keaton and a close friend created KDK Group, a homebuilding and renovation company. The company has now been in operation for four years.
"The creative process is most fun for me," Keaton said. "We never do the same thing twice. We're always trying to find ways to create an amazing and unique finished product."
While home renovation and being an OB/GYN may sound like completely different careers, Dr. Davenport and Keaton have found some similarities in their chosen paths—just as each patient is different, each home is, too. And while one of them is focused on giving a home a new lease on life, Dr. Davenport is helping women bring life into the world.