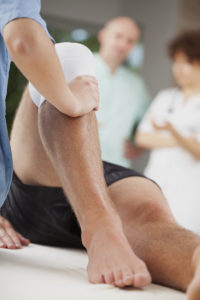 If you're an athlete, you know that falls, over-exertion and repetitive-motion injuries are common hazards of playing the sports you love. But if you've been sidelined by an injury, there's a secret weapon within yourself that can get you back in the game.
Joseph Hui, MD, a Riverview Health Physicians orthopedic and sports medicine doctor, specializes in platelet-rich plasma (PRP) treatment to heal injuries, provide pain relief and restore function without surgery, therapy or medication. PRP treatment uses the body's own growth factors (platelets) found in blood plasma to heal diseased or damaged tissues.
The treatment is an office procedure that first requires drawing blood and then using a machine to isolate the blood platelets. Then, using ultrasound guidance, the platelets are injected back into the area that's causing you pain. Most adults are good candidates for this treatment.
Platelet-rich plasma treatment has a 25- to 30-year history in sports medicine, and can treat a variety of sports-related injuries including tennis elbow, chronic hip pain, rotator cuff injuries and problems with biceps or tendons. Professional athletes including tennis star Rafael Nadal and golfer Tiger Woods have pursued this treatment. In addition to treating injuries, platelet-rich plasma treatments can also relieve joint pain for patients who may not yet be good candidates for joint replacement surgery or want to delay surgery.
See if platelet-rich plasma treatments are right for you by scheduling an appointment with Riverview Health Physicians Orthopedics & Sports Medicine.
Carmel office: 317.705.4392
Westfield office: 317.867.5263