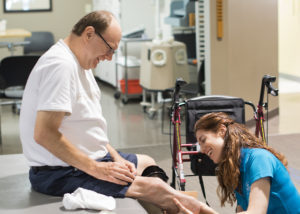 If you were to stop and talk with Randy Worden, you'd never guess he had just been through one of the toughest years of his life. He's easygoing and likes to joke, which is something he said helped him get through his recent health scares.
     "It all started the summer of 2017 when my wife and I went to see our son in Portland, Maine," Randy recalled. "I developed a blister on the back of my right heel that wouldn't go away."
     Randy is a Type 2 diabetic, so the blister concerned him because diabetes can make it harder for the body to heal and fight infection. When he got home from the trip he followed up with a podiatrist to get help. But despite wound treatments and antibiotics, the blister developed into a serious infection that would soon affect Randy's entire leg.
     By November, things took a turn for the worse—the infection in Randy's leg developed into sepsis, and he was admitted to Riverview Health. He underwent life-saving surgery to amputate his right leg below the knee, which ultimately stopped the infection from spreading and potentially killing him.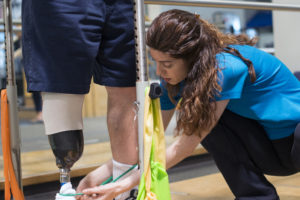 After surgery and taking some time to heal, Randy began working with the acute inpatient rehabilitation team at Riverview Health—the only facility of its kind in Hamilton County. Randy's team of therapists focused on increasing his self-care skills and maximizing his ability to enjoy life.
     "When I first started working with Randy in the rehab unit he was very anxious," said Michael Cummings, an occupational therapist at Riverview Health. "As much as he was limited by weakness and a new amputation, he was also hesitant to move due to fear of falling."
     To combat these fears, the rehab team focused on exercises that would increase Randy's strength and balance.
     "When we were finished, Randy was not only able to do functional tasks by himself—like sit up or transfer from his bed to his wheelchair—but he was also more talkative and confident,"
     Michael said. "We completed a home evaluation prior to Randy leaving the hospital to make sure his environment was properly set up for him. That seemed to help reassure him that when he left the hospital everything would be OK."
     After Randy was released from the hospital and completed in-home therapy, he was referred to Riverview Health Rehab & Fitness where he continued his road to recovery.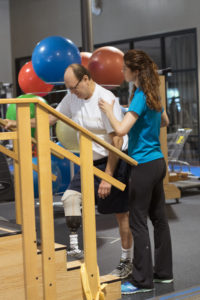 "When Randy first started outpatient therapy he was barely walking on his own. Now he walks with a rollator or a cane independently," said Christen Geisz, an outpatient physical therapist at Riverview Health Rehab & Fitness. "He's an incredibly hard worker with the potential to have a high level of mobility. We plan to continue to work with Randy so he can achieve that."
     And there doesn't seem to be any slowing Randy down. Now, it isn't uncommon to find him out weeding his garden or walking on his own to the neighborhood gym to exercise.
     Randy credits much of his recovery to the support he received from those around him—his wife, Diana; his sons, Joel, Rob and Ryan, and the rest of his family; the prayers and well wishes from friends and members of his church (Our Lady of Grace); and the staff at Riverview Health.
     "Rehab kept telling me, 'you'll be completely different after therapy.' They were so positive and really helped me push through," Randy said. "From where I started to where I am now—I couldn't have done it without their help."