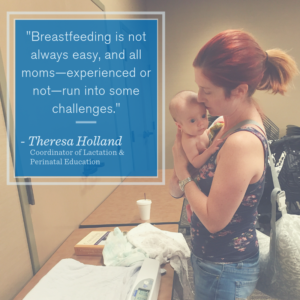 It's no secret that some women experience more challenges throughout their breastfeeding journey than others. According to the CDC, 60 percent of mothers stop breastfeeding sooner than they planned.
At Riverview Health we understand how difficult it can be for mothers to begin and continue breastfeeding. We offer classes and support groups so moms are able to receive the support and the information they need to be successful.
Theresa Holland, coordinator of the lactation and the perinatal education programs at Riverview Health, understands just how important support groups and classes are to all moms.
"Breastfeeding is not always easy, and all moms—experienced or not—run into some challenges," Theresa said.
Theresa and the rest of the perinatal team at Riverview Health understand the many benefits of breastfeeding and provide hands-on support in hopes of easing mothers —new or experienced—into the process. They also remind mothers that breastfeeding is an investment in health—not just a lifestyle decision.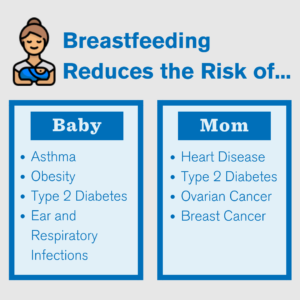 Many new moms understand the benefits associated with breastfeeding and don't hesitate to try it, but they may need extra support or guidance for long term nursing. This is why classes and support groups are so important.
"Anyone is welcome to come to our breastfeeding class and breastfeeding support group, whether they deliver at Riverview Health or not," Theresa said. "It's a non-judgmental atmosphere designed to help mothers feel comfortable and supported."
Riverview Health offers many opportunities for moms who might need extra guidance and support.
Classes Available:
Breastfeeding

Learn about the advantages of breastfeeding along with tips and techniques from an international certified lactation consultant
Breastfeeding & Returning to Work

Learn about building milk supply, pumping at work, storing breast milk and preparing your employer and daycare provider for your breastfeeding plans.
Support Groups:
Breastfeeding Support Group

Come weigh your baby, breastfeed and chat with other breastfeeding mothers. A lactation consultant will be available to assist you in any way.
Outpatient Lactation Consultation:
For one on one support, lactation consultants are available six days a week. A physician referral is not required. To make an appointment, call 317.776.7202.
For more information or to sign up for a class or support group, visit riverview.org/classes, or email Theresa Holland at tholland@riverview.org.