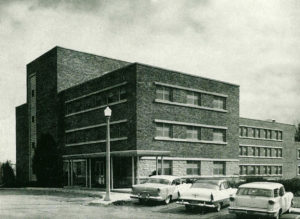 It's a hot Wednesday morning in June, and Jane Morton is doing what she does every Wednesday—waiting for someone to walk through the doors of Riverview Health so she can greet them with a warm smile and offer a friendly "hello." Morton, 85, has been volunteering as a greeter at Riverview Health on and off for more than four decades. But her relationship with Riverview Health goes much deeper than that. "I've been connected ever since I was born in 1933 at the old hospital on the square," Morton said. "I still have the hospital bill my mother kept from my birth. It only cost $30. A lot has changed."
     Indeed, things change. Prices go up with inflation; technology advances; transportation evolves; and communities grow. And Riverview Health is no different. Founded in 1909, Riverview Health was originally Samuel Harrell Hospital & Sanatorium—a three-story brick building in the heart of Noblesville.
     Today, Riverview Health consists of a sprawling five-level hospital campus and more than 20 off-site physician offices. And most recently, they're opening a new hospital in Westfield to meet the needs of a growing population there—just as they have done for more than a century.
The First Hospital in the County
     Back when Morton was born, the hospital was located half a block from the Noblesville downtown square. But it's since been razed and paved over, and now a parking lot for a bank covers the ground. "When I stop and think about it, I'm amazed at how much this area has changed," said Morton, who has spent her entire life in the county. "What used to be cornfields are now buildings and houses. And it seems like every time I turn around a new subdivision has gone up."As the population of Hamilton County began to grow, the hospital was sold in 1914 to the county for $30,000 and was renamed Hamilton County Hospital. On May 12, 1951, it was relocated to a newly constructed 86-bed facility—where it still stands today. A year later, it was renamed to Riverview Hospital to pay homage to its location on the banks of the White River.
Always Growing
    As the years went on, Riverview Hospital became an indispensable part of the community. Instead of traveling more than 20 miles to go to a hospital in downtown Indianapolis, community members had their own hospital in their backyard. In 1965,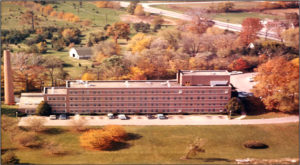 Noblesville resident Pete Mariani came from Anderson and joined the staff of Riverview Hospital as the administrator. In the following years, Mariani would lay the organizational foundation for Riverview Hospital to grow into what it is today. With Mariani's forethought and guidance, a 64,000-square-foot patient wing was added in 1967 to the north side of the hospital. This allowed for the addition of patient beds, equipment, space for an intensive care unit and the addition of specialty physicians. "Without a strong medical staff, you won't have much of a hospital," Mariani said. "Just like today's staff, our staff of physicians and nurses were extremely skilled and really cared for their patients." Nothing displayed this more than their actions during the Indianapolis blizzard in 1978, Mariani recalled. More than 20 inches of snow blanketed the area, and there was only one physician in the hospital. The staff was snowed in for three days. "We all pitched in to do the cooking, laundry, housekeeping—you name it," Mariani said. "We even took a snowmobile to go to a house and pick up a woman who was in labor." The dedication Mariani saw during those three days is still seen in the staff today, he added. "While the outside of Riverview continues to grow, the people on the inside shouldn't be overlooked, and I'm excited to see them expand into the new hospital in Westfield," Mariani said.
A New Chapter
     More than 100 years since it first opened, Riverview Health is still a county-owned hospital that strives to improve and preserve the health of its community members. Hamilton County is the fastest growing county in the state, according the data from the U.S. Census, and that's due in part to the population boom in Westfield. Patricia Fox, who joined Riverview Hospital in 2000 and took the reigns as chief executive officer in 2004, oversaw the rebranding of Riverview Hospital to Riverview Health in 2014. The rebrand showed further growth by looking beyond the hospital to include off-site practices and services. Fox also guided Riverview Health toward Westfield and secured the land for Riverview Health Westfield Hospital before retiring in 2016. "Bringing comprehensive services to Westfield and all communities along and near the U.S. 31 corridor made sense and would provide everything they needed in one location," Fox said. "Riverview Health has a wonderful culture and provides excellent care, and I wanted to bring that to Westfield." With the opening of Riverview Health Westfield Hospital, you'll see some new faces as well as the same dedicated staff members and volunteers who work at the Noblesville hospital, which remains open and serves as the main campus. Riverview Health volunteer and Noblesville resident Jim Story, 77, started volunteering at the Noblesville hospital in 2009 and is excited for this new chapter in the long history of Riverview Health. "I don't think there's any health system where you can get better care," Story said. "Most of the time, it's a smile and friendly feeling—and that's what we try to promote as volunteers. The people in Westfield will learn that's what Riverview has always been about."