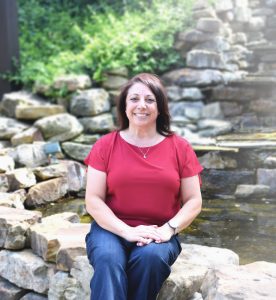 After years of suffering from endometriosis, Cindy Gaines had tried everything to manage her symptoms. She was regularly struggling with painful cramping. Her active lifestyle was not what it had once been as she could no longer participate in activities she enjoyed. She had a surgery to remove her left ovary and fallopian tubes. She tried Lupron injections. She had a Nexplanon birth control implant placed. She took prescription medications. While some of those methods provided some relief, nothing was long-term, and the pain always returned. At 48 years old, she thought menopause would be her only way to feel better again, which could have been years away.
Finally, in October 2021, Cindy started seeing Dr. Valerie Gathers at Riverview Health Physicians OB/GYN.
"Endometriosis is a painful disorder where the endometrium—the tissue that should be growing inside your uterus—grows outside of the uterus," Dr. Gathers said. "It can grow on your ovaries, fallopian tubes and in other places in your pelvis."
In Cindy's case, the endometriosis was occurring all over her internal organs, including her bowels, bladder and abdominal walls, which was causing a lot of pain.
"Dr. Gathers told me, 'you're just putting band-aids on this. And it's not working. If you were my mother, my sister, my friend, I'd tell you to get a hysterectomy,'" Cindy said.
Cindy took her time contemplating surgery, as she worried about the recovery and how it would affect her life. But as her endometriosis symptoms worsened, she decided to go for it. Dr. Gathers recommended using the da Vinci robotic surgical system for Cindy's hysterectomy.
"The da Vinci system allows a surgeon to perform complex procedures through tiny incisions with incredible precision," Dr. Gathers explained.
During a da Vinci hysterectomy, the surgeon sits at a console across the room from the patient. Using a high-definition camera, 3-D vision and a magnified view, the surgeon's hand movements are seamlessly translated into precise, real-time movements of the surgical instruments.
"Cindy had stage 4 endometriosis—meaning it had spread beyond her pelvic organs," said Dr. Gathers. "This makes the surgery a lot more complicated because we have to dissect out her pelvic organs. Also the da Vinci magnifies the surgical field so it's vital for trying to get out even the smallest endometriosis implants."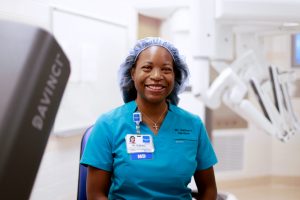 Benefits of the da Vinci surgery include minimal scarring, less blood loss, fewer pain medications and an overall faster recovery.
"Many patients are back to work within a couple of weeks with only lifting restrictions," said Dr. Gathers. "Patients' overall recovery is shorter. They have a lot less pain, and some, like Cindy, don't even require narcotics once they leave the hospital."
For Cindy, the recovery was just that. She was walking around immediately after surgery, took two doses of the prescription pain medicine and then only used Tylenol and Ibuprofen.
Two weeks after surgery, Cindy was walking 1.5 miles every day. All the pressure and heaviness she'd been feeling for years was finally gone.
"I kick myself for waiting so long. I feel so much better," Cindy said.
Like many women, Cindy put everyone and everything else ahead of herself, neglecting her own health.
"I always put myself on the back burner," she said, "And I need to make sure I focus on me sometimes."
She credited Dr. Gathers with giving her the push she needed to have the surgery.
"Dr. Gathers is wonderful—just a great doctor," she said. "My whole experience was awesome. And I would highly recommend the da Vinci robotic surgery to any woman considering a hysterectomy."