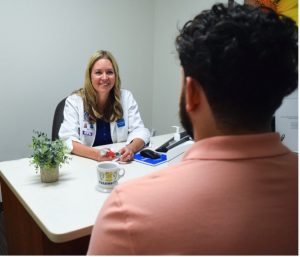 Prescription after prescription. As you age, you may feel like your list of medications gets longer with every visit to the doctor. But what if your medications were counteracting each other and you didn't even know it? Or a prescription you have been taking for two years was only meant for short-term use, but you kept refilling it? Mistakes like these happen more often than you think, especially if you are seeing several different physicians for your care.
To combat prescription mishaps and get the most out of your medication treatment, Riverview Health offers medication therapy management, or MTM. Pharmacy manager Amy Sheller, PharmD, is one of the pharmacists a patient may see during an MTM session.
"Medication therapy management is usually an in-person appointment with a comprehensive review of all the prescriptions, over-the-counter medications and even herbal products that patients may use at home," Amy said. "I also look at where I may be able to save patients money on monthly prescriptions by finding generic brands or eliminating prescriptions that have no use."
Prior to an MTM session, Amy instructs the patient to bring all the medications they use—prescriptions, over-the-counter-medications, herbal products and topical medications. To begin, Amy will look at the ingredients on every medication and examine how the drugs are interacting. She then determines the purpose for each medication.
"I want to make sure that my patients know the purpose of each medication and why they are taking it. I often see patients who are taking a prescription to treat a common condition. Sometimes we find out that the condition has been resolved, but they're still taking that medication because it became routine," Amy said.
In some instances, Amy experiences an "aha!" moment and finds a prescription in a patient's routine that they should not be using and may be harming their health. While working with an older patient, Amy noticed that the patient had recently started taking a medication to treat early symptoms of dementia.
"The patient had been taking a medication that can cause confusion, dizziness, and memory loss. I worked with their primary care physician to taper them off this medication because the patient reported the condition had resolved," Amy said.
Aside from prescription mishaps and drug interactions, Amy explores how she can save patients money each month by finding a generic version or recommending the elimination of a prescription altogether. Before making any changes to a medication, Amy personally calls the prescribing physician to discuss her suggestions and gets each physician's approval. By doing this, there is no additional stress on the patient to explain to their physician why they want these changes.
"I always encourage people to ask their pharmacist questions," Amy said. "However, that may be intimidating when there is a line of people behind you at the pharmacy. That is why I am so passionate about MTM."