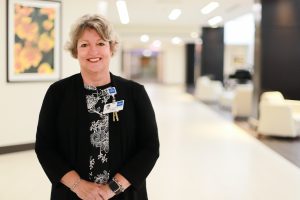 When Joyce Wood was in the fourth grade, she knew she wanted to be a nurse. She never wavered in her goal, and after a 43-year career in nursing, she has never looked back or regretted that decision.
After 32 years with Riverview Health—the past 18 as vice president of organizational improvement and chief nursing officer—Joyce decided to retire in 2022.
At the start of her career, she spent 12 years working in post-operative surgery and recovery with another health system. She then joined Riverview Health in 1990, coming on board for a day shift opportunity.
"I was only going to be here for four or five years," Joyce said.
However, a year later, an opportunity came up in utilization review and quality. It was a day shift job with no evenings or weekends, so she went for it and quickly realized she loved being a part of the business side of healthcare. Over the years, she accumulated other responsibilities, including risk management, education and compliance. She has also had administrative oversight over the pharmacy, outpatient therapies, respiratory care, nursing services, infection control, wound care and the accountable care organization. In 2003, she was named the vice president of organizational improvement and in 2004 became the chief nursing officer.
Reflecting back on her career, Joyce has seen so many changes—from the physical improvements within the hospital to advancements in nursing and the addition of new services and technologies.
"When I began my career at Riverview Health, it was a 1970s-appearing hospital," Joyce said. "Throughout the years, we have revamped the entire campus."
Riverview Health built its current main campus in Noblesville in 1951 and during Joyce's tenure, has completely remodeled and made additions—upgrading the interior and opening new units, including a new emergency department, maternity unit and the Courtney Cox Cole Infusion Center, among other projects. During those years, Riverview Health has also expanded its footprint within Hamilton County by employing physicians across the county, as well as building a new hospital in Westfield and adding three freestanding emergency room/urgent care centers.
"We now have almost every specialty that you could need—which is impressive for a community-based hospital," Joyce said. "And we have all the same technology that all the larger institutions have."
While Riverview Health has seen incredible growth over the years and experienced many successes, Joyce said that her proudest moments are seeing the incredible care provided and, above all, helping people.
"While I don't do that at the bedside anymore, the processes that we put into place allow for our patients to receive great care," Joyce said. "I get to see the effects of that all the time."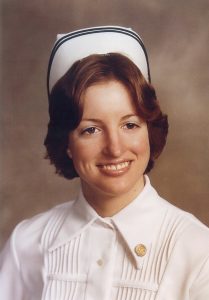 Joyce has experienced many moments over the years that have stuck with her: Receiving heartfelt thanks and appreciation from patients for life-saving care. Organizing an honor walk for a dying patient about to donate his organs. Connecting a mother with the nurses who cared for her daughter in her last moments of life. Counseling patients and their family members as they make the most difficult life decisions.
As Joyce departs the profession she's loved all these years, she leaves behind an incredible team that she has set up for success.
"I would put our nursing staff up against anyone, anywhere," Joyce said. "If you are considering going into nursing, do it. Nursing is a great career, and we need more dedicated nurses to take care of people."
Joyce's contributions to the community have extended beyond Riverview Health, as she has held various leadership roles on boards with multiple non-profit agencies, including Meals on Wheels, Marian University Nursing Program, Riverview Health Foundation, Prevail, Trinity Free Clinic and others.