At Riverview Health Pain Management Center in Westfield, patients receive cutting edge treatment in an empathetic and caring environment. By working as a team, Dr. Nelson and Kara collaborate on patient care and see patients quickly so they can overcome pain and live their lives to the fullest.
Aaron Nelson, DO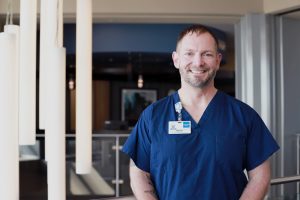 Specialties: Injections, neuroablation, radio frequency ablation, implantable therapies and minimally invasive surgery.
Dr. Nelson served in the United States Army for 15 years and completed tours in Afghanistan and Iraq. During his time in the military, he graduated from medical school and served as an anesthesiologist for the Army Forward Surgical Team.
"My interest in treating pain really comes from not only taking care of those large-scale traumatic injuries, but also recognizing that there is an aftermath that can destroy people's lives," Dr. Nelson said.
Dr. Nelson is a chronic pain patient himself after having multiple levels of his spine fused due to an injury. This experience has helped him understand the pain his patients face and empathize on a deeper level. As a provider, Dr. Nelson prioritizes functional gains and improving patients' everyday lives so they can enjoy what matters most to them.
"I love hearing a patient's specific story about what they've been able to get back to," Dr. Nelson said. "I love hearing that they attended their kid's graduation and didn't have to leave early, or that they were able to travel across the country for a wedding or a family reunion. I love hearing the stories of everything they thought they would miss out on, but they are now able to do because treatment helped them."
Dr. Nelson says the only thing he loves more than being a doctor is being a dad. He also enjoys training his dogs, which serve as service dogs.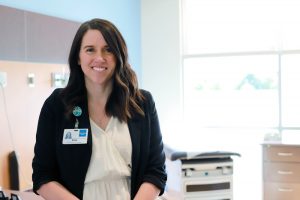 Kara Lutes, Certified Nurse Practitioner
Specialties: Medication management, clinic visits and procedure recommendations.
Kara is from Fort Wayne, Ind. And has been living in the Indianapolis area since December 2021. Kara knew from an early age she wanted to help others with her career, and after she graduated high school, she began nursing school. After completing her degree, Kara spent time
working in emergency rooms before deciding to specialize in pain management as a nurse practitioner.
"I think there is a strong need for providers in the specialty of pain management. It gets sidelined a lot," Kara said. "A lot of people live in chronic pain and don't have anyone to focus on that component of their healthcare."
Kara focuses on the holistic side of her patients' care and believes creating a soothing environment for patients is crucial to helping them heal. Kara explores all treatment avenues with her patients to determine the best course of action for their unique situation.
"My favorite part of my job is being able to change a patient's quality of life and for them to feel heard during their visit," Kara said.
Kara also appreciates the close-knit feeling of Riverview Health.
"The nurses I work with here are fantastic," Kara said. "Recently I ordered an X-ray, and within minutes the tech popped upstairs to talk with me and ask how exactly I wanted it done. You don't get experiences like that at larger systems."
In her free time, Kara loves to run, ride her bike and play with her two children.
To schedule an appointment at the Riverview Health Pain Management Center, call 317.770.5861 or visit riverview.org.