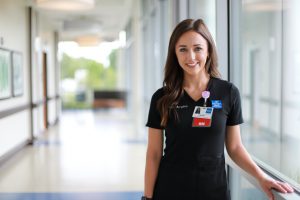 For many people, the thought of a needle coming near their face can seem pretty scary. But with kind blue eyes and a skilled hand, Lauren Hooton, RN, BSN, puts her patients at ease.
Lauren, an aesthetic nurse injector with Riverview Health Physicians Plastic Surgery, has honed her skills under the expertise of Riverview Health Physicians plastic surgeon Joshua Tieman, MD.
"Working under Dr. Tieman and learning from him has been truly incredible," Lauren said. "As the only medical provider in our office in addition to him, I'm alongside him for every patient—from surgery consults and postoperative visits, to injectables—and I'm hearing how his brain works and how he determines the best plan of care for each patient."
After graduating from nursing school in 2017, Lauren worked as a pediatric nurse for more than four years.
"When I was in pediatrics, I was working with highly complicated diagnoses, so my ability to communicate complex things to kids and parents has really helped me learn how to provide excellent care and education for current patients," Lauren said.
When thinking about her next move after working in pediatrics, entering the aesthetics field was a natural fit. Growing up as a dancer and then a cheerleader for the Indianapolis Colts football team, Lauren has always had a passion for the beauty and entertainment industry. Since joining Riverview Health Physicians Plastic Surgery, Lauren has done in-depth research on injectables and attended a training hosted by Allergan, the maker of Botox. But the training she's received from Dr. Tieman has proven to be most valuable.
"A plastic surgeon's years of training are so extensive, which makes learning from Dr. Tieman a privilege," Lauren said. "He's extremely focused on the anatomy of patients, which is so beneficial as an injector."
One of Lauren's favorite things about being a nurse injector is creating relationships with her patients who come in feeling insecure about their appearance and leave feeling confident.
"I love how much the aesthetics field is progressing and how people are realizing Botox isn't
just something you do once you've aged—it's just as much a preventive option for the appearance of fine lines and wrinkles," Lauren said. "A lot of my patients are in their 20s or early 30s and looking for preventive injections. On the flip side, some patients in their 50s are worried they're too late, and that's by no means the case."
Lauren prides herself in taking the time to fully understand each patient's goals and have honest conversations with them about results and expectations.
"A lot of people hear 'Botox' and think it fixes everything," Lauren said. "I work on educating patients about what is possible and what may be best treated by Botox, filler or something else."
But when it comes down to it, understanding facial structure and muscles is something that is imperative in the injectable field in order to achieve safe and effective results.
"There are so many options when it comes to finding a person to perform injections, but I think it's pretty special to get your injectables in a plastic surgery office by someone who has been trained by a plastic surgeon."
If you're interested in making an appointment with Riverview Health Physicians Plastic Surgery, call 317.214.5795 or visit riverview.org.