By Brittany Wonnell, RD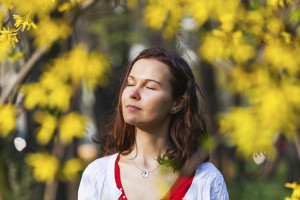 Though mindfulness can mean different things to everyone, essentially, it's being aware and engaged in the present. Throughout the busy workday, it's important to practice mindfulness to bring yourself back into the moment, which can help ease stress or provide relief during a hectic day.
With these four methods, you can start living a more mindful life:
Body scans are simply taking time to be aware of and notice your body. Close your eyes and think about each body part and how it feels. This quiet time can help ease your mind and release tension from your body. Body scans can last two minutes or up to 10. To better understand body scans, speak to a wellness coach to help you through your first practice.
Mindful listening means you listen to others without passing judgment. Open your mind to understand what they're saying and feeling. Mindful listening also includes listening to your environment. Close your eyes for a couple minutes and simply listen to the sounds around you to bring you back to the present.
Mindful walking is extremely helpful during or after work. Try walking without a phone or headphones and really examine the things you're seeing. Look without judgment and accept the beauty you see. This can ultimately help you focus as well as appreciate the small things in life.
Visualization is another practice that takes a little more concentration but can be conquered with assistance from your wellness coach. Try closing your eyes and thinking about where you are in different aspects of your life and where you'd like to be.
Remember, mindfulness is an ongoing practice to help increase awareness, relaxation, focus, and overall wellbeing.
Learn more about eating mindfully and healthy with the Nutritional Counseling program at Riverview Health.