Meet Jenna Walls, MD, a sports medicine physician at Riverview Health. Dr. Walls joined the Riverview Health team in August 2019, and she practices at Riverview Health Physicians Orthopedics & Sports Medicine in Westfield and Carmel. Dr. Walls is also the team physician for University High School and Hamilton Heights. As a new member of the orthopedics and sports medicine team, we asked Dr. Walls a few questions to get to know her better.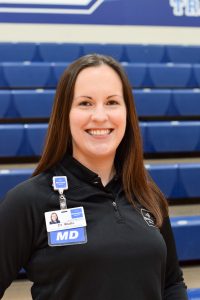 Q. You're the team physician for University High School and Hamilton Heights. Did you play any sports in high school?
A. I played tennis for one year and ran cross-country for two years. Chronic knee pain kept me from participating in sports my senior year of high school, so I served as the team manager for our cross-country and basketball teams. This continued into my college years at Washington and Lee University in Lexington, Virginia, where I served as a student athletic trainer and team manager for their men's basketball team for four years.
Q. Before you decided to become a sports medicine physician, what other career paths did you consider?
A. In middle school and early high school, I thought strongly about pursuing a career in veterinary medicine. However, as I started spending more time around sports and athletes, the concept of sports medicine was introduced. While I considered other areas of medicine during college and medical school— such as emergency medicine, anesthesiology and surgery— my experience working with athletes in college ultimately drove me to a career in sports medicine. I was also heavily influenced by other sports medicine physicians and athletic trainers who mentored me throughout my education.
Q. What are your goals as a physician?
A. My main goal is to provide the best care that I can for my patients. I strive to help my patients take an active role in their recovery and to be an advocate for their health and well-being. Not all of my patients are athletes, so I hope to help educate each of my patients on how they can stay active for years to come.
Q. You graduated from University High School in Carmel. How has it been being the team physician at your old school?
A. University High School is such a special place, and I love being able to give back to a community that has given me so much.
Q. What does a typical week on the job look like for you right now?
A. I see patients in our Westfield and Carmel clinics Monday through Friday. During our busy athletic seasons, I also typically see student athletes in the high school training room one afternoon each week. I also attend home athletic events at University High School and Hamilton Heights, especially during the fall and winter sports seasons.
Q. What do you love most about your job?
A. I love having the opportunity to meet new people and to form new relationships on a daily basis. I also enjoy helping my patients through difficult times and seeing them overcome an injury or pain. I see a wide range of ages and activity levels in my practice, so each day is a new adventure.
Q. How have your patients influenced your life?
A. My patients influence me to be both a better physician and a better person every day. I love caring for patients who are motivated to stay active and lead a healthy lifestyle. This often pushes me to look at my own life and motivates me to stay active.
Q. When you're not busy seeing patients, what do you like to do for fun?
A. I enjoy working out, cooking, reading, knitting and volunteering at my church. I also love spending time with my two German Shepherds, Dax and Nita.
Q. Do you have any advice for young students who may be considering a career in orthopedics and sports medicine?
A. Get involved early! Look for ways to shadow orthopedic surgeons and sports medicine physicians during high school or college. This will help you get a true feel for the lifestyle.