[slideshow id=10]
Congratulations to all runners and walkers who participated in the first Noblesville Schools Education Foundation "Fund Run" this past Saturday, September 24, 2011. Hundreds of runners and walkers joined in the fun, participating in one of three distance options – a 10-miler, a 5K, or a 1-mile fun run and walk. People of all ages and abilities were encouraged to participate.
All races started and ended at Noblesville High School, with proceeds from the event benefitting the Noblesville Schools Education Foundation. The Foundation supports the Noblesville School District by providing classroom grants and scholarships. Riverview Hospital was a proud presenting sponsor of this outstanding new health-focused event that benefits those in our community.
The 10-mile run began at 7:30 a.m., followed by the 1-mile fun run and walk at 7:45 a.m. and the 5K at 8 a.m. Participants enjoyed water and Gatorade stops at several points throughout the 10-mile and 5K courses. Pat Fox, president and CEO of Riverview Hospital (and a 10-miler participant), presented 10-miler and 5K participants with their awards during the awards ceremony. Cash awards were presented to the first three male and female finishers overall for the 10-miler. Blue Mile gift certificates were presented to the top three finishers in each male and female age division for the 10-miler and 5K. Age divisions started at 19 to 24, in 5-year increments up to 80 and over. Youth awards were presented to the top three boy and girl finishers. All 1-mile participants received a ribbon.
COURSES:
10-Mile Course: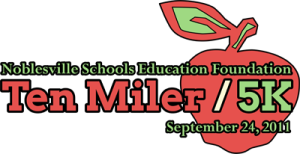 The first four miles took runners through the City of Noblesville, Forest Park, and Potters Bridge. From Potters Bridge, runners had a fast loop through the countryside back to Potters Bridge, through the bridge and onto the shaded and curvy White River Greenway for about two miles. The course then headed back on the roads to finish.
5K Course:
The first mile took participants on the east side of Noblesville, then downtown on Logan Street (brick), through the middle of the city. At 1½ miles, participants turned north and went through a neighborhood north of downtown, and then back to the finish.
Event Sponsors:
Riverview Hospital, the City of Noblesville, Church Church Hittle & Antrim, Blue Mile, GFS Marketplace, The Noblesville Daily Times, Hare Chevrolet, Kiwanis International, Johnsonville, Farmers Bank, and Kroger.
Contributions to the Noblesville Schools Education Foundation may be made throughout the year. Their address is: P.O. Box 724, Noblesville, IN 46061. Learn more online at noblesvilleeducationfoundation.org.