By Katheryn M. Moreira, MD
Riverview Health Physicians OB/GYN
As we grow older, the need and desire to be close to others doesn't go away. And a satisfying sex life can be a big part of a healthy, happy relationship. But it's normal for aging to bring physical changes to women (and men). Let's take a look at some common changes that occur after menopause, as well as treatments that are helping post-menopausal women rediscover their sexuality.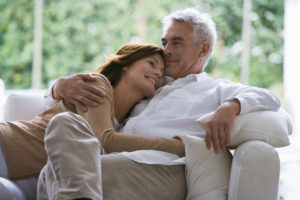 Some normal changes
Normal aging brings about physical changes that can affect a woman's ability to have and enjoy sex. After menopause, estrogen levels decrease. Less estrogen causes changes in a woman's vagina: her vaginal tissue can become thinner, dryer and less elastic, which can make intercourse painful.
Physical changes in your body aren't the only things that can affect your ability to enjoy intimacy. Some illnesses, disabilities, medicines and surgeries—as well as emotions or problems in your relationship—can also play a role. So now it's time to talk about how important it is to share these issues with your doctor.
 What you can do
There are things you can do on your own to help your sex life. Make your partner a high priority. Take time for each other, enjoy each other and understand the changes you both are facing. Be patient, be open to trying new things and try not to hurry things along. Keep in mind you're both in this together.
How your doctor can help
You may not find it easy to talk to your doctor about this. But remember, your doctor has talked about aging and intimacy with many patients who have these same issues.
One of the most common problems is painful intercourse due to vaginal dryness. Your doctor may recommend water-based lubricants or vaginal moisturizers—both easy to find at a grocery store or drug store. Topical estrogen therapy is another option to help replace some of the hormones your body is lacking. This can help target the area directly and relieve vaginal dryness symptoms. Unlike menopausal hormone therapy (MHT), formerly known as hormone replacement therapy, which can take the form of a pill and skin patch, topical estrogen therapy doesn't put as much estrogen into your blood stream.
There is also a non-hormonal medicine to treat moderate-to-severe vaginal dryness brought on by menopause that may be right for you. Your doctor can tell you about the risks and benefits of this option.
It's not easy to decide to treat symptoms of menopause that affect intimacy. The transition can be complicated and, of course, personal. But talking with your doctor can make a big difference, and that can make it all worth it.
Sources: NIA.NIH.gov
---