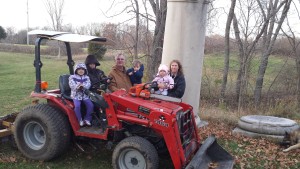 John LeCount—a father of six and grandfather of five—is an avid outdoorsman who loves spending time on the Noblesville property where he and his wife, Pam, live. He heads outside every chance he gets—splitting logs for firewood, tending to the land, and enjoying the peace and serenity.
On a warm day in late August 2013, John decided to cut some large fallen trees for firewood for the upcoming winter—something he had done hundreds of times. To do this, John tied a heavy log to the back of his tractor and pulled it to a level area, where he prepared to cut it with a chainsaw. All went along as planned until he got to the last log. Just before cutting it, John used his left foot to remove the nylon strap that was tied around the log. In the blink of an eye, the running chainsaw clipped the nylon strap and kicked, deeply cutting John on the side of his left ankle
"I was in complete shock. Adrenaline set in immediately," recalled John. "I was alone without my phone. I had to make my way back up to the house and get help."
John limped to his tractor and headed up to the driveway.
"I yelled as loud as I could that I needed to go to the hospital right away."
Pam came running and saw what had happened.
"His injury was very severe. I wrapped his leg as best I could, grabbed my purse and shoes, got him in the car and headed to the Riverview Health Emergency Center," said Pam.
There, emergency physicians treated John's four-inch incision while managing his pain. John later followed up, as instructed, with his family physician, Dr. Walter Beaver. Recognizing John needed more advanced treatment, Dr. Beaver referred him to his colleagues at Riverview Health, Dr. Thomas Cittadine, an orthopedic surgeon, and Dr. Tracey Ikerd, an infectious disease specialist and medical director of the wound care program.
"Many severe wounds such as John's require additional care to facilitate healing," noted Dr. Ikerd.
In addition to vascular surgeon Dr. Russell Dilley removing the damaged tissue and doing a skin graft, Dr. Ikerd and Dr. Cittadine prescribed a series of 30 hyperbaric oxygen therapy treatments to help speed up John's healing process.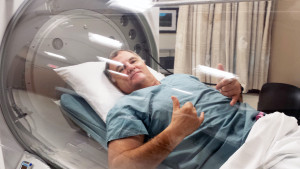 Hyperbaric oxygen therapy works by surrounding the person with 100 percent oxygen at higher-than-normal atmospheric pressure. This increases the amount of oxygen in the blood, allowing red blood cells to pass more easily through the plasma to help heal a wound from the inside out. Riverview Health Wound Care has two hyperbaric oxygen therapy chambers as part of its expanded advanced wound care program.
During therapy sessions, people relax on a bed encased with a large, see-through acrylic shell, and watch movies or talk with others through a speaker system. The only physical sensation is a slight pressure on the eardrum—such as that felt when an airplane lands—as the air chamber is pressurized.
"The progress I made during my hyperbaric oxygen treatments was amazing. I could see my wound quickly healing," said John. "Everyone I encountered was wonderful. The nurses and staff, along with Dr. Beaver, Dr. Ikerd, Dr. Dilley and Dr. Cittadine, worked together to help me heal. I was so impressed with the personalized attention, skilled care and assurance I received."
Just ten weeks after his incident, John went back to work at the construction business he owns with his wife.
"If it weren't for hyperbaric oxygen therapy, I wouldn't be nearly as far as I am today," said John.