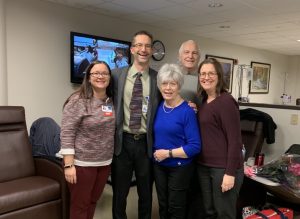 Charismatic. Type-A. Determined. Sharon Marcotte is a self-starter who loves to be on the go. She can often be found traveling with her husband of 54 years, John, in their motorhome. Her world stopped, however, in June 2019 when she discovered a marble-sized lump in her left breast.
Sharon was a nurse for 50 years, 21 of which were as a nurse practitioner. She knew she needed to keep an eye on the lump. When it hadn't gone away in a week, she told John she was worried.
"My husband felt the lump and told me to grab my coat—we were going to the doctor," Sharon said.
That day, Sharon went to see her primary care doctor, Annette Fearnot, MD, at Sheridan Family Medicine. Dr. Fearnot recommended Sharon get a mammogram and an ultrasound. The Riverview Health Bone & Breast Center got Sharon scheduled quickly, and both tests confirmed the mass in her breast. A few days later a biopsy was performed to determine if it was cancerous.
The biopsy confirmed their fears—Sharon had breast cancer.
After her diagnosis, Sharon went to see Riverview Health surgeon, Samuel Heiser, MD, to discuss her options. All four of Sharon's adult children and her husband joined her at the appointment for support. Two of Sharon's children—Eric Marcotte, MD, and Betsy Zile, NP—are also Riverview Health employees, something that made Sharon feel even more at home at the hospital.
"Dr. Heiser was so kind," Sharon said. "He gave us a breakdown of what the treatment would look like once the results came back. He was so calm and reassuring."
Once the official pathology came back, Sharon was diagnosed with triple negative breast cancer. Tests revealed the cancer was not genetic or brought on by the hormones Sharon been taking for years to help with her bone density, leaving the cause unknown.
"This form of cancer is very aggressive; it comes on quickly and it does bad things quickly," Sharon said. "I am blessed I found it so soon. Doing a self-breast exam probably saved my life."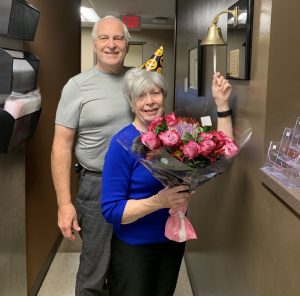 For her treatment, Sharon would undergo six chemotherapy sessions before removing the mass surgically. Then, she would complete radiation therapy. Due to scheduling conflicts, Sharon underwent her lumpectomy at another health system, but completed her chemotherapy and radiation at Riverview Health.
Because she has a history of reacting negatively to medications, Sharon was hesitant to undergo chemo. But the oncology team at Riverview Health helped put Sharon's mind at ease.
"The oncology pharmacist, Adam Wischmeier, was fantastic," Sharon said. "He sat for an hour with me and went over all the medicine I would be on. He explained why he thought I would be okay, and I was calm, thanks to him. The infusion center nurses have stars in their crowns as far as I am concerned."
The lump in Sharon's breast went away after one chemo session. By her fourth chemo appointment, Sharon was informed she did not have to complete all six sessions if she didn't want to, but Sharon opted to finish them for "insurance."
While Sharon handled chemo incredibly well, it did cause her to lose her hair.
"When my hair was falling out in clumps, I had my daughter buzz it for me," Sharon said. "I had a good cry, and then John came in. His eyes got big and he said, 'You look beautiful, just like Lt. Ilia.'"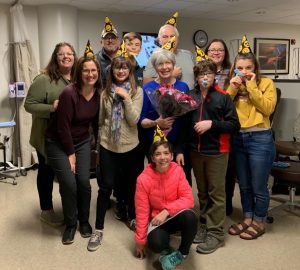 Lt. Ilia was a pretty character from the film "Star Trek: The Motion Picture" who had no hair.
Sharon completed chemotherapy, a lumpectomy with reconstruction and radiation successfully. She was ready to put cancer behind her and get back to her busy life. But in July 2020, Sharon began having pain in her left breast and her left arm felt swollen.
After an evaluation, it was determined that Sharon had developed lymphedema, a disorder which is caused by blockages in the lymphatic system. As lymphatic fluid builds up, various parts of the patient's body swell. Cancer patients are at a greater risk for developing lymphedema due to potential damage to lymph nodes during surgery or treatment.
To combat her symptoms, Sharon began seeing Audra Olson, a physical therapy assistant at Riverview Health Rehab & Fitness.
"Through the lymphedema team's therapy interventions, and with the help of the Riverview Women's Boutique to get her the appropriate bras and compression garments, Sharon was able to leave therapy with minimal pain and symptoms, and a lot of knowledge," Audra said.
Riverview Health is unique in that the lymphedema team offers pre- and post-op evaluations and education for cancer patients undergoing surgery. The goal of the evaluations is to educate patients on preventative steps, as well as the symptoms of lymphedema to aid with early detection.
"Sharon felt that if she had that knowledge prior to her surgery, she may have been able to get in sooner and decrease the severity of her symptoms or not even needed us at all," Audra said. "She was thoroughly impressed by our current attempts to make lymphedema education and pre-treatment part of our team approach with our cancer patients. She has spoken at length with her outside surgeon, who was extremely interested in our holistic approach to patient care at Riverview Health." Audra said.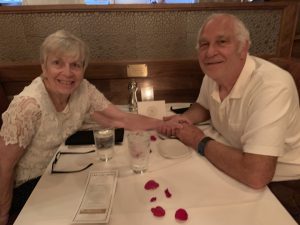 And it wasn't just the physical therapy that helped Sharon, but also bonding with Audra.
"The exercises help, and they also give me a sense of control," Sharon said. "Audra taught me a lot of self-care. She is also a cancer survivor, so she knows what it is like on both sides of the fence."
After completing physical therapy in September 2020, Sharon has learned techniques to help treat her lymphedema at home, and she knows if she ever needs additional help, she has a support system at Riverview Health.
"Noblesville needs to be grateful they have Riverview Health. It is exceptional," Sharon said. "I've been to some of the world's biggest medical facilities, and Riverview is top notch."
And despite the hardship she endured fighting cancer and lymphedema, Sharon is grateful.
"I sailed through it, thank the Lord," Sharon said of the experience. "I felt the prayers the entire time. I can look back through the last year and know I was just above the waves. I got a little wet at times, but I never felt like I was going to drown. God is good."