By Stephanie Brazus, MD
Riverview Health Physicians OB/GYN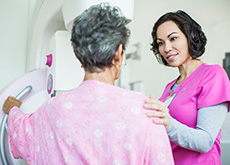 Yes, we know. Your annual well-woman exam may not be at the top of your fun list, but it's important. It's the perfect time to ask questions and share concerns with your doctor, and it helps your doctor spot signs of diseases and conditions early, when they're easier to treat effectively. And there's no better time to get the wellness information you need in an open environment where no question is off-limits.
Once-a-year exam
A well-woman exam—also known as your annual physical, checkup or well check—is recommended for women starting at age 21, and at least once yearly after that. It helps ensure that you are healthy and receiving necessary medications and treatments. Your doctor will talk with you about your health, symptoms you are experiencing and medications you are taking. Your well-woman exam is also a good time for pre-pregnancy counseling and to discuss family planning.
Depending on your age, your exam may include:
Pelvic exam to check the organs within the pelvis
Breast exam to screen for unusual lumps or changes as a prevention against breast cancer
Pap test to screen for cervical cancer, and possibly a test for the human papillomavirus (HPV)
Screening for sexually transmitted diseases if appropriate
Discussion about lifestyle, such as exercise, smoking, nutrition, alcohol consumption and menstrual cycles
Is a pelvic exam a Pap?
This is a common misperception, but a pelvic exam isn't a Pap test. A pelvic exam involves visually and/or physically evaluating all the organs in the pelvis. A Pap test may be performed during a pelvic exam, and includes taking a sample of cells from the cervix to check for abnormalities.
Pap test guidelines
A Pap test (also called a Pap smear) is a common screening done during a pelvic exam to help detect cervical cancer. Ask your doctor when you should first have a Pap test, and how often you should have one. Guidelines from the American Cancer Society for cervical cancer screening are:
A first Pap test at age 21, then every 3 years until age 29. HPV testing is not recommended at this time, but may be done in the case of an abnormal Pap test.
From age 30 to age 65, a Pap test done with an HPV test every 5 years. Another option is just the Pap test every 3 years.
For those at high risk of cervical cancer, a different screening schedule may be needed. Risk factors include having HIV, a weak immune system or exposure to the medication DES while your mother was pregnant with you.
Women who have been vaccinated for HPV should still follow these guidelines.
Schedule a checkup with Riverview Health Physicians OB/GYN
Speak with an expert at Riverview Health to learn more about the benefits of a well-woman exam and how this form of preventive medicine can affect your life for the better. To make an appointment for a well-woman exam, call 317.565.0535 or complete an online appointment request form.