Dennis Pippenger, MD
Riverview Health Physicians OB/GYN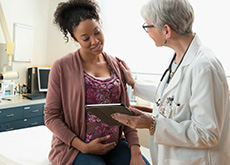 The 40 weeks of pregnancy can be jam-packed with doctor visits, depending upon your health history, your prenatal provider and your preference. And with all the various screening tests, diagnostic tests, blood tests and ultrasounds—it helps to know what to expect with your pregnancy journey.
Regular medical checkups throughout your pregnancy can head off complications you or the baby may face. Most prenatal visits consist of checking your baby's heartbeat, your blood pressure and your weight. And early on, your doctor might suggest prenatal testing.
Testing, testing…
Two categories of tests include screening tests and diagnostic tests. Screening tests, such as ultrasounds, tell you how likely you and your baby are to have certain medical conditions. Diagnostic tests diagnose health disorders, such as Down syndrome. Amniocentesis and chorionic villus sampling (CVS) are examples of diagnostic tests.
Some routine screenings include:
Blood test: Checks iron, blood type, blood sugar levels, and presence of measles antigens, HIV and other diseases
Urine test: Checks sugar and protein levels
Ultrasound: Shows how the baby is developing
Glucose screening: Screens for gestational diabetes
Group B streptococcus test: Checks for a bacterial infection that can be harmful to newborns
Depending upon your health history and age, your doctor might suggest:
Amniocentesis or CVS: Detects chromosome abnormalities, neural tube defects and genetic disorders
First trimester screen and triple screen: Identifies risk for chromosomal abnormalities
Quad screen: Similar to the triple screen, but also tests for Inhibin-A to assess a baby's risk of Down syndrome
Cordocentesis: Takes a sample of the baby's blood to detect abnormalities
Routine versus required
Many prenatal tests are recommended based on your age, health history, previous test results or family history. But they are all optional. You should feel comfortable talking with your provider about your prenatal care. He or she can explain prenatal tests and help you weigh the pros and cons for your situation.
Sources: ACOG.gov, AmericanPregnancy.org, CDC.gov, WomensHealth.gov
---