By Dennis L. Pippenger, MD
Riverview Health Physicians OB/GYN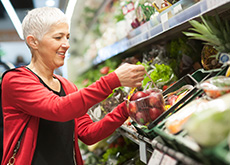 Weight gain? Hot flashes? Your food choices can make things easier when you're dealing with a mid-life transition.
But first, know you're not alone. Many women in their 40s or 50s find it difficult to keep extra pounds off. Because of lowering hormone levels and the aging process, women often lose muscle and gain fat, mainly in the belly area. Your lifestyle affects weight gain, too. If you're less active and eating more calories than you need, the weight can build—and stay on.
The good news is that you can plan for your body's slowdown by talking with your healthcare provider about the diet and exercise plan that's right for you, given your medical history and lifestyle. Here are some simple food "rules" to keep in mind:
Avoid oversize portions by using a smaller plate, bowl or glass.
Limit yourself to one alcoholic drink a day.
When eating out, choose low-fat options and avoid heavy sauces and creams.
As for hot flashes, avoiding caffeine, spicy foods and alcohol can help lessen the number and severity of hot flashes. You may also try to incorporate more plant estrogens into your diet, since experts think they may work in the body like a weak form of estrogen, helping to reduce hot flashes. Examples of plant estrogens that may be effective for you include:
Soybeans
Chickpeas
Flaxseed (crushed or ground)
Lentils
What about over-the-counter products?
When taken in moderate amounts, plant estrogens can be safe. Large amounts, however, may be harmful to women with a history of estrogen-dependent cancer, like breast cancer, and possibly other women, too. That's yet another reason to talk to your healthcare provider to make an informed decision about modifying your diet to ease your symptoms.
The truth is, menopause symptoms are different in every woman. What works for one woman may not work for another. The key is to pay close attention to the clues your body may give you and keep an open dialogue with your healthcare provider.
Source: clevelandclinic.org, eatright.org
---