By Ryan Lawson, Exercise Specialist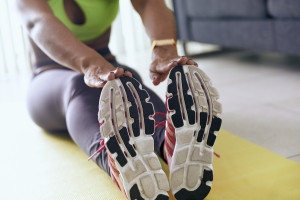 The start of the school year means new beginnings for your kids, but it's also a great time to self-reflect by taking a look at your life and fitness routine and planning ways to stay active during the upcoming fall and winter months.
Here are a few tips to help you successfully reintroduce regular exercise into your schedule:
Plan ahead. Create a weekly calendar and make sure to include your exercise routine as a regular appointment. Studies have shown that people who regularly exercise have a more positive temperament, more energy and sleep better. These are all good things to have when dealing with a chaotic schedule.
Keep exercise equipment around the house. On days when the weather is too cold or you just can't make it to the gym, it's always beneficial to have equipment in the house to use. Equipment like a stability ball, hand weights or tubes can effectively give you an efficient full-body workout in a pinch.
Track your activity. Counting steps is a great way to make sure you're staying on track with your activity throughout the day. Parking farther away or walking around while the kids are participating in extracurricular activities are simple ways to be more active. Wearable fitness devices have come a long way. Check them out to see what works best for you and keeps you motivated to stay moving.
Make it efficient. There are many priorities in your life, and exercise should be on that list. Remember to be realistic. You don't have to exercise for hours a day, but make sure that the amount of time you do carve out to exercise is realistic and achievable.
---
Don't want to exercise alone? Join one of our fun fitness classes! See which class is right for you >>