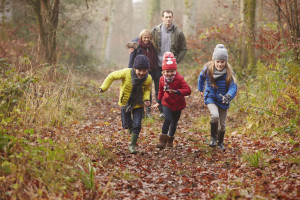 By Ryan Lawson, exercise specialist
According to Centers for Disease Control and Prevention, in the past 30 years, childhood obesity has more than doubled, and obesity in adolescents has quadrupled. Young adults who are overweight tend to have higher occurrences of heart disease and other serious health conditions at an earlier age compared to those at a healthy weight.
While it can be challenging to juggle work, family and physical activity, parents who are regularly active also tend to have kids who are active. For an effective, successful approach, consider making exercise a family activity. Exercising as a family creates encouraging social support for everyone involved and positively influences your ability to make healthier lifestyle choices.
Here are five easy ways you can help your kids get the exercise they need:
Pre- or post-dinner walks—Scheduling a set time for a walk makes you less likely to avoid it. Whether it's for five to 10 minutes or lasts several miles, walking is something that can and should be done on a regular basis.
Crank up the music and dance—Being active can be as simple as getting up out of the chair and moving. Get your kids involved by creating a fun music playlist and then turn it on and get grooving! It's a fun activity that the whole family can do together.
Turn TV commercials into fitness breaks—A 30-minute show typically has eight minutes of commercials, while an hour-long show has about 18 minutes of commercials. Instead of fast-forwarding or flipping through the channels, make a game by challenging yourself and your kids to be active during the commercials. Try running in place, hopping on one foot or doing jumping jacks. Those few minutes really add up.
Take the dog for a walk—Research shows that dog owners have more fun losing weight and are able to keep it off longer than those who don't own a dog. Plus it's a great way to teach the kids responsibility by taking care of the pooch's exercise needs (and their own).
Set limits for screen time—Looking at obesity rates from three decades ago compared to now, there's one thing that sticks out: the use of technological devices. Though kids don't have to completely avoid technology, limiting screen time will encourage them to find other, more active ways to spend their time.
Still looking for ways to help your kids get some exercise? Check out our Sports Enhancement and Sports Enhancement Junior fitness programs.