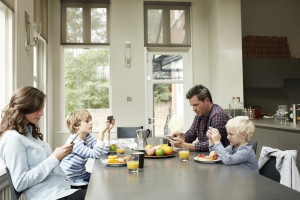 By Katie Boscia, MS, RD, IBCLC, CDE
Eating dinner together as a family can have several benefits for children as well as adults. In today's busy world where everyone has different schedules, planning a dinner together will give you a reason to stop and connect. Sit down without distractions such as phones, mobile devices, television or computers. Try playing a game by putting your cellphones facedown, stacked in a pile and see how long you can go without checking them. Looking beyond your screens will give you the opportunity to have a conversation and reconnect with your family by finding out what's going on in their lives. It'll also teach your kids healthy communication techniques by engaging in active listening and expressing opinions.
Coming together at the end of the day creates a sense of nurturing and closeness that might not be there otherwise. Family dinners can help children grow into well-adjusted adults by helping with their self-esteem, values and personal identity. It can also lower the risk of children engaging in high-risk behaviors such as drugs or alcohol. Children will get a sense of structure and may open up more about concerns they have. They're also more likely to accept, understand and follow the boundaries and expectations set for them by their parents.
Believe it or not, there are nutritional benefits to having everyone around the dinner table. Children are more likely to eat fruits and vegetables at a family dinner than fried foods. If you model what your children should be eating, it'll help them create healthy habits they'll carry on to adulthood.
Dinner doesn't have to be a big deal. It's not so much about what you're eating as much as it's about getting together to share your thoughts. Even if you can't get together every night, striving for a few family meals a week will make a big difference.
Get one-on-one nutritional counseling for you or your child with the Nutritional Counseling Program at Riverview Health >>