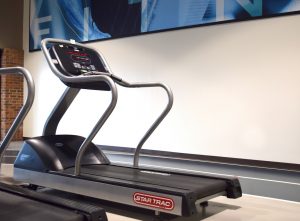 Has it been a while since you've worked out? Has quarantine caused you to become more sedentary than normal? You're ready to be active again, but after such a long hiatus from the gym, you're probably feeling overwhelmed. How should you get back into an exercise routine? The staff at Riverview Health Rehab & Fitness is here to be your guide as you reenter your active lifestyle. Read our tips below to help ease back into your exercise routine in a safe and effective manner.
Have a realistic, achievable plan. There are a lot of factors to consider as you restart your exercise routine, especially if your health status has changed over the last year. Anytime there are large gaps of time between working out, you need to realize you are not going to start at the same level you left off. It is recommended that you consult your physician to discuss the best way to increase your activity. You and your physician will be able to map out a plan and create realistic goals.
Take your time getting back into your routine. A few of minutes of activity a day are better than no activity at all. A little exercise, multiple times throughout the day is as effective as doing all the exercises at one time. The key for easing back into exercising is to make sure you don't overwhelm yourself and start too many things at once. Start with one exercise, and then during your next session build on that exercise and add another. The long-term goal should be to get back into a regular routine through incremental increases daily.
Take a holistic approach. Think about your entire exercise routine—the warm-up, main workout and cool-down. Make sure to end each session with a nice stretch and a mental wind-down. Exercise is not only about getting your heart rate up, but also about stretching the muscles after use and increasing your functional movement. The goal should not be to move consistently, but to also increase your functional capacity. Integrating stretches after a workout is a great way to ease into your next task, loosen up your body and promote better movement overall.
Exercise can be what you enjoy. Going to a gym often creates a sense of accountability and safety. Unfortunately, access to gyms has been limited over the last year. However, this is the perfect opportunity to get creative and to be more active throughout the day. Take the stairs, walk around during virtual chats or maybe challenge yourself to increase your average steps by 100 each day. Exercise is what you make of it, and it can be any activity you enjoy. If you are looking for ways to stay active around the house, click here to view our instructional video of easy, at-home exercises.
For more individualized fitness tips or ways to safely increase your activity level, please reach out to our Riverview Health exercise specialist, Ryan Lawson, at RLawson2@riverview.org.