By Ryan Lawson, Exercise Specialist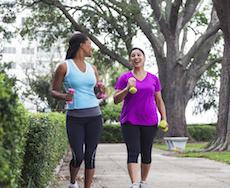 Research strongly suggests that exercise is safe both during and after breast cancer treatment, provided it's integrated correctly. By exercising during treatment, you can improve your overall wellbeing and develop bodily efficiency. Exercise has also been shown to ease side effects of cancer treatment and boost energy.
There are some guidelines to consider as you integrate exercise into your breast cancer treatment.
First, always consult your physician and make him or her aware that you want to exercise during and after treatment. Once your doctor clears you for exercise, consider seeing a physical therapist for a structural evaluation to find out what activities are okay and what movements you should avoid. Make sure to take time to educate yourself on lymphedema to know how to respond to it and what symptoms to watch for. Most of all, pay attention to your body and do not overdo it. There's nothing wrong with taking breaks as needed.
It's important to remember that the stronger and more physically fit you are before the surgery and treatments, the quicker you'll recover after treatment.
Breaking a sweat has been shown to boost emotional resilience and physical strength. People who work out during cancer treatment have less fatigue and experience less anxiety and fear compared to patients who do not work out. While it can be a challenge to work out during treatment, the benefits of doing so are invaluable.