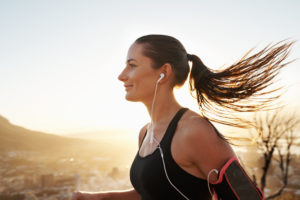 By Ryan Lawson, Exercise Specialist  
Whether you're already practicing a healthy exercise routine or you've finally worked up the motivation to start one, you may face an unexpected barrier to your commitment to a workout regimen—finances.
There is a strong, positive relationship between being financially secure and physically active. They both contribute to a happier lifestyle. When it comes to adding physical fitness into your life, couch potatoes aren't the only ones who can stand to benefit. Regardless of your weight or activity level, you should look at your health as an investment, similar to stocks and bonds. Both health and financial security require your time and effort and nothing will come if you simply ignore them.
You may know from friends, family or personal experience that financial problems can affect a person's health, and a healthy lifestyle can help you save money. For example, if you stop smoking, you immediately save the money you used to spend on cigarettes. Along those lines, some employers have started to charge higher insurance premiums to people who use tobacco. Some companies provide incentives or financial savings to those people who are regularly active.
In addition to immediate savings, there are also long-term benefits to consider. Over the course of a lifetime, healthcare costs are lower for those who exercise regularly. People who are active have a lower risk of chronic health problems such as diabetes, high blood pressure and high cholesterol. This means fewer doctor visits and other medical costs.
People who exercise are also more productive employees. Multiple studies have shown that people who work out a minimum of three times a week are more productive at work than people who do not. As you can guess, this also leads to people who are happier at work and take fewer sick days.
It's important to remember that healthy lifestyle choices, such as proper diet and exercise, increase life expectancy. People who exercise regularly and eat well tend to be more productive and are more satisfied in their personal and professional lives. Integrating regular physical activity helps to reduce stress, increase energy levels, contribute to a more fulfilling lifestyle and even save you a few bucks.