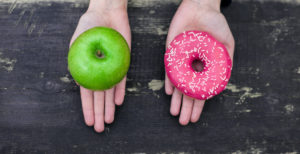 By Brittany Nelson, MS, RD
Most of us have heard that fruit juices have little to no nutritional value. But sometimes people will point out that fruit itself also has a lot of sugar. Don't be fooled into thinking a banana has too much sugar! There's a big difference between sugar found naturally in foods and added sugar.
Added sugar means sugar or syrup has been added to foods and beverages when they were processed, not naturally found in the food. These types of sugar ingredients have been one of the main culprits for the obesity epidemic and increased risk for chronic diseases such as heart disease and diabetes.
That's why it's important to know the science behind sugar to fully understand if sugar is naturally found in a food or added when the food is processed.
Sugar comes from all foods that contain carbohydrates. That's because all carbohydrates, which our bodies use as their main source of energy, break down into sugar when metabolized. Yes, your grains, starches, fruit, vegetables and dairy all break down into sugar including glucose, fructose, and galactose—natural forms of sugar—which we should strive to consume daily.
Quantity is Important
The 2015-2020 Dietary Guidelines for Americans recommend 45 to 65 percent of the total calories you consume in a day should come from carbohydrates and less than 10 percent of those carbohydrates should come from foods and beverages with added sugar. It's important to know your carbohydrate needs and "added sugar number" when thinking about your daily food and beverage consumption.
For example, if your dietitian recommends you consume 2,000 calories per day, 10 percent from added sugar would be 200 calories, or consuming fewer than 50 grams of added sugar per day. How much is 50 grams? A 16-ounce bottle of Sprite contains 51 grams of added sugar.
How do I know if a product has added sugar?
Most foods that have one ingredient do not have sugar added to them. For example: a potato, an apple, a mango or an ear of corn. When food labels have multiple ingredients listed, added sugars may be hidden. Check out the ingredient label near the nutrition facts label to discover hidden added sugars. Some of these words found in the ingredients label include: corn syrup, dextrose, fructose, high-fructose corn syrup (HFCS), honey, invert sugar, lactose, malt syrup, maltose, molasses, syrup, nectars, raw sugar, sucrose and white granulated sugar. Even though some of these forms of sugar can be "natural," such as organic cane sugar, if it's listed on a label, it is added!
Now, go forth with this knowledge and keep track of your added sugar intake so you can be a healthier you.