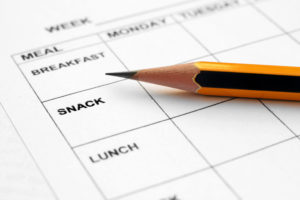 By Kristin Lamb, CHWC
Our wellness coaching and nutritional counseling clients routinely request meal plans. While this is a great idea, it's nearly impossible to figure out the personal likes and dislikes, budget, cooking style, etc., in order to create a meal plan that has perfectly balanced nutrition and is sustainable for the individual and family. So, my reply is: cafeterias have rotating menus that work well—so let's create your personal café.
Together, we start by building a two-week platform of types of food they prefer, outline general meals and build in "flex days" based on what will work with their schedule on a routine basis. Then we map it out and print a few copies for the them to start using. Check out the example below.
Flexible, rotating menus provide guidance when it's time to go to the store, and they allow family members to give input on what types of meals they want instead of the dreaded "I don't know" response.
TIP: Add a line for fruits and veggies you plan to prep for snacking: veggies, blueberries, celery with peanut butter, etc.