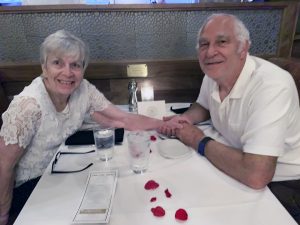 As owners of a small farm in eastern Indiana, John and Sharon Marcotte are no strangers to hard work. Growing crops and raising cattle and other animals made them completely self-sufficient for many years. However, in the last couple of years, they cut back and slowed down as Sharon fought and survived breast cancer in 2019 and lymphedema in 2020. But as life returned to a new normal post-pandemic, Sharon noticed John still seemed a bit slow and tired.
"As a retired nurse practitioner, it's in my nature to keep tabs on the health of my loved ones," Sharon said. "John hadn't been feeling well, and he would get very pale and short of breath at times. But he didn't have any pain."
Worried about John's health, she encouraged him to see his Riverview Health primary care physician, Dr. Kent Erb, for a check-up in July 2021. Dr. Erb ordered an electrocardiogram (EKG), a chest X-ray and a cardiac stress test on a treadmill to assess John's heart, as he has a family history of heart problems on his mom's side.
"I thought there was no need for all the testing because I had no real symptoms, except I'd get tired more easily," John said.
During the stress test the next day, John struggled with his breathing while on the treadmill and had some EKG changes that were concerning, said Dr. Navneet Lather, an interventional cardiologist at Riverview Health.
"His lab tests showed that he had a decent-sized heart attack that was still ongoing, so we stopped his stress test and rushed him to the cardiac catheterization lab," Dr. Lather said.
In the cath lab, Dr. Lather saw that John's right coronary artery was completely blocked, and the left side showed blockages as well.
"We tried to pass a wire in the right coronary artery but couldn't get past the clot since it had been going on for a few days," Dr. Lather said. "Because John had left-sided heart disease, I referred him to Ascension St. Vincent Heart Center for bypass surgery."
Through a longstanding partnership, Dr. Lather and all the cardiologists at Riverview Health are part of Ascension St. Vincent Heart Center. John was fit into an already busy surgery schedule. But thanks to the close relationship between Dr. Lather and the heart center, Dr. Lather was able to get John in sooner.
"When the surgeon opened John up, the right side of his heart wasn't moving," Dr. Lather said. "If they had waited any longer, it would have led to permanent damage."
When his heart was bypassed, it turned from a shade of grey to pink, indicating his heart function returned to normal. After surgery, John's recovery went smoothly, and he was out of bed the following morning and home a week later. Though John was diligent about seeing his primary care physician every year, he and Sharon never suspected he was having a heart problem. Men and women often have different heart attack symptoms—but not always, and not in John's case.
"He had his mother's symptoms to a T: fatigue, shortness of breath and sleepiness, but no chest pain," Sharon said.
Most men John's age would complain of chest pain or pressure, Dr. Lather said.
"With such unusual symptoms, I've learned I need to pay more attention to how I'm feeling and not brush it off," John said.
Riverview Health offers a $49 CT heart scan that can be completed without a physician's order and can provide insight into your heart health. If a heart scan is abnormal, testing can be performed and medication can be given to greatly reduce the risk of developing a heart attack in the future.
"If he had gotten a heart scan, it would have helped him get treated with the appropriate medications ahead of time," Dr. Lather said. "But our team moved quickly as a network and worked so well together that we were able to ensure John didn't develop any permanent damage."
John and Sharon credit the caring teams for saving his life.
"It's the reason we drive almost 100 miles to see the staff at Riverview Health," Sharon said. "From my cancer treatment to John's heart issues, our care has been so wonderful. As a nurse, when I'm at Riverview Health, I know I can relax and just trust their team."