Camron Knott was nervous. He'd had a bumpy senior year—first, there was the concussion he suffered during football in the fall of 2019, and then a serious sprain to his left ankle during basketball season. After recovering from the ankle injury, he was about to get back in the game again. His coach gave him the signal, and Camron ran back out onto the basketball court. Nerves or no nerves, he was done with sitting on the bench. It was time to get back out there and help his team.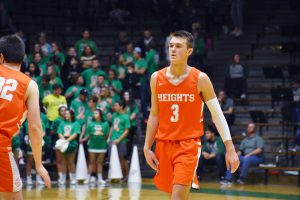 As a Hamilton Heights senior, helping his team was what Camron was known for. Others describe him as someone who inspires those around him to give a greater level of commitment. He is also resilient, something that helped him overcome some serious setbacks throughout his athletic career.
"My concussion during football came from a head-to-head hit after I caught a pass," Camron recalled. "Dr. Walls was at the game when the concussion happened, so she was able to see me immediately. She ran me through the tests on the sideline and diagnosed me with a concussion based on my responses."
Dr. Jenna Walls, a sports medicine physician at Riverview Health, is also the team physician for Hamilton Heights. After his injury, she instructed Camron to follow traditional concussion protocol, which included rest and activity restrictions.
"Dr. Walls encouraged Camron to follow these guidelines to the fullest in order to lessen the damage and to help him recover and get back out on the field," Camron's mother, Janet Knott, said. "She was very concerned about Camron and his academics and wanted to make sure he continued to be successful in the classroom. It was nice that she didn't just focus on the athletics but was also concerned about his academic achievement."
Camron had a baseline ImPACT test performed by Riverview Health athletic trainers at the start of the football season. An ImPACT assessment is used prior to a concussion or after recovery from a previous concussion. Baseline test results are compared to post-injury results to measure recovery in patients. Once adequate recovery in ImPACT scores are seen—along with no symptoms and a normal physical exam—athletes are allowed to start progressing back to their sport.
After healing, Camron underwent a post-injury ImPACT assessment and passed with better scores than his baseline test.
"With rest and academic accommodations, he was able to get back to football within three weeks of his initial injury—just in time for football sectionals and the end of his senior football season," Dr. Walls said.
With football behind him, Camron was excited for his next athletic season—basketball.
"When Camron returned to the basketball court—wow. We were a fast-paced, multi-dimensional team with a long playoff run in our future," said Jan Clifton-Gaw, a Riverview Health athletic trainer at Hamilton Heights. "Then during a game in January, Camron caught a lob pass and landed awkwardly on a defender's foot, which seriously injured his ankle."
Within minutes of the injury, Camron's ankle was so swollen his sock had to be cut off.
"It was so heartbreaking to see him in pain and to think that his high school basketball career could be over," Janet said. "Dr. Walls met up with us in the training room and was very good with Camron. He was frustrated and in pain and she was very patient with him."
X-rays revealed that Camron had suffered a severe sprain. Once again, he was benched due to his injury, and his team felt it.
"In the words of Coach Ballenger, 'We are a completely different team without Cam,'" Jan said. "His moments of greatness on the field and court are surpassed only by his ability to make others around him elevate their level of play. His absence was always noted."
But Jan knew Camron's story wasn't finished, and she continually worked with him so he could make the comeback he deserved.
"Jan did an excellent job of keeping Camron's spirits high during his recovery," Dr. Walls said. "He was able to rehabilitate his ankle in the training room with her, and we were so pleased that he was able to finish out his basketball season on the court."
"Working with Jan and Dr. Walls was always great," Camron said. "They always showed that they cared for me a lot and did whatever they needed to in order to help me. Helping others in the best way they can is always their priority."
But the challenges weren't over. As if two injuries weren't enough, Camron would soon be faced with another hurdle his senior year—school closures due to COVID-19.
"During online school, it was very hard for me and my classmates," Camron said. "Nobody was used to it, and it was hard to understand everything that was going on. My school and the staff worked so hard to make everything run smoothly and did a great job."
Never one to mope, Camron made the most of the situation. His family purchased weights so he could continue exercising at home and stay fit. He also started a full-time job with Green Vista, all while completing his online courses for school. He finished the semester with straight As.
While his senior year may not have gone exactly how he wanted it to, Camron worked hard and finished strong, and now he's ready to start the next chapter of life as a Purdue Boilermaker.
"Camron is a smart, hard-working, and committed young man with a very bright future ahead," Dr. Walls said. "I know he will continue to do great things during his time at Purdue, and I wish him all the best. On a personal level, I feel privileged to have been a part of his comeback story."