Welcoming a new baby can trigger a rollercoaster of emotions. A newborn means making changes to life as you know it and adjusting to a new normal. No matter how prepared you are, you might find adapting to your new life can bring challenges. But don't worry, you're not alone.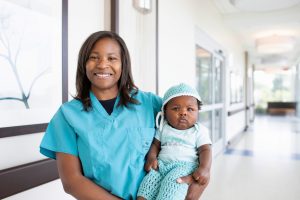 Riverview Health Physicians OB/GYN Valerie Gathers, MD, is no stranger to the challenges of having a demanding job and balancing motherhood. With a three-year-old son and a new baby girl at home, Dr. Gathers understands the stress her patients may be feeling when returning to work.
"With my son, I only took off six weeks," Dr. Gathers said. "The transition was hard. He wasn't sleeping through the night, and I was breastfeeding and didn't have a lot of milk stored up."
When Dr. Gathers was preparing to have her daughter, she knew she needed more time off.
"Once I found out I was pregnant again, I planned to take off three months," Dr. Gathers said. "I feel like it made so much of a difference with transitioning back to work."
Dr. Gathers found that one of the biggest challenges she faced upon returning to work was adding in time to pump to her work schedule.
"I think it's really important for any mom who plans on breastfeeding to have their schedule adjusted so they have enough time to pump during the day," Dr. Gathers explained. "You really need to be pumping every time your child is eating. So, if your baby is eating every three hours, you need to be pumping every three hours."
For mothers who breastfeed, Dr. Gathers also recommends extra pumping and storing up milk before returning to work. It's important to know how much you'll need to pump at the office, she says. Be prepared and bring pump parts, an insulated bag or cooler and even soap. Discuss beforehand with your employer when and where you will have time to pump.
Dr. Gathers also advises expecting mothers to look for childcare well in advance of giving birth. If your childcare includes an in-home caregiver, it might be a good idea to take some time to help get them acquainted with your new baby.
"During the last month of my maternity leave, I took the time to let our caregiver ask questions and get familiar with my daughter," Dr. Gathers said. "If parents have the availability, it might be useful starting off with daycare two days a week to get your baby acclimated."
Returning back to work means less time with your baby, and it's easy for mothers to think they are being neglectful. Dr. Gathers was used to spending every minute with her little one, and when she went back to work, that drastically changed. To help cope with this adjustment, she likes to take at least an hour each night for just her and her baby.
Although adjusting to her new normal wasn't easy, her husband, friends, family and coworkers made a supportive team.
"Lean on your family and friends," Dr. Gathers said. "Get advice from those you trust, because transitioning is hard. Utilize your resources and realize your time is limited."
When it's time to prepare for your first day back to work, know that it's normal to have all kinds of emotions. Remember to be patient with yourself and take time if you need it. Be proud that you're a working mom!