First, when you're pregnant, it's important to start thinking about when to tell your supervisor the exciting news. Although it's completely up to you, supervisors may feel more prepared if you speak to them prior to telling your team.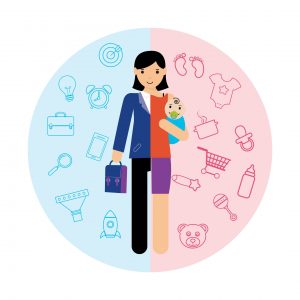 Once you've discussed your pregnancy with your supervisor, it's time to understand your maternity leave options. Most employees will use paid time off (PTO) as well as a short-term disability benefit. You should also become familiar with the Family and Medical Leave ACT (FMLA). Be sure to check with your employer to see if you qualify.
It's important to develop a time frame for returning to work and to discuss it with your employer. If you want to slowly transition back into your old work routine, it's a good idea to plan to return to your job on a Thursday or a Friday. Make sure your supervisor knows what your plans are for returning to work, and be sure to ask questions such as:
When will be your first day back?
Will you need to adjust your hours?
When and where will you pump breastmilk?
Don't forget to check in with yourself and take breaks when you find necessary. Even throughout your first year of going back to work, it's important to keep an eye on your emotional and mental well-being. Settling into a new schedule can be difficult.
You might find it helpful to track your progress with milestones. Think about how you are feeling after six months, nine months and then a full year. Ask yourself how you're adjusting to your new schedule. Is your childcare working well for your routine? Are you able to eat healthy and exercise? How is breastfeeding going? If you're having any concerns about your new routine, you might find it best to discuss this with your supervisor.
A mixture of emotions and changes are all normal, even if this isn't your first baby. It's OK for your routine to be different after each pregnancy.
Riverview Health wants to help make your motherhood journey as smooth as possible. For questions regarding Maternity Services, please call 317.776.7919.