Although common items people look for in a hospital gift shop likely include flowers, cards and candy, it was the clothes, jewelry and people that initially gave Carolyn Johns a reason to visit. Carolyn describes herself as a fashion-lover who enjoys helping others. So, she was naturally drawn to volunteering at hospital gift shops throughout her life. Carolyn began volunteering first in New York for a few years and then another 10 years while living in Michigan.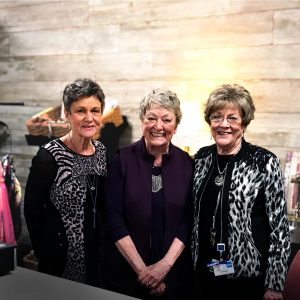 After her husband retired in 1988, they decided to move to Noblesville, the town where Carolyn grew up. Shortly after moving back, Carolyn turned in an application to the Riverview Health Gift Shop. As her husband closed a chapter of his life when he retired, Carolyn began a new one that would last more than 30 years.
With her previous retail and volunteer experience, it was no surprise that Carolyn was given the job as the gift shop manager. But just like her previous volunteer experience, it would never really feel like a "job" to Carolyn because she truly loved being there.
"I had already done the retail bit since the age of 18, and I knew I would rather volunteer my time," Carolyn said. "During a phone interview, I said if this was a paying job, I wouldn't take it because it would take the enjoyment out of it for me."
The Gift Shop was a place where Carolyn could be around people and keep up with the latest trends—all while volunteering for a good cause. It was the perfect match.
If you visited the gift shop at Riverview Health over the years, you probably saw Carolyn sitting behind the cash register. But cashier was just one of the many roles she played for the Gift Shop. From buying inventory to going to apparel shows to steaming the clothing—she did it all.
Although her expertise in retail was an important asset to the Gift Shop, Carolyn's real value was her commitment to volunteering and her genuine love for helping others. In fact, her one piece of advice to future volunteers is to do it for the right reasons.
"I came on board two years ago, and Carolyn came in every day, Monday through Friday from 10 a.m. to 2 p.m.," said Melinda Nash, volunteer manager at Riverview Health. "She gave so much of her time and talent to Riverview Health, and we are so grateful for her years here."
More than 23,000 volunteer hours later and just short of her 90th birthday, Carolyn officially retired as a Riverview Health volunteer and gift shop manager. Carolyn has been a volunteer in some capacity for nearly 50 years.
"Everybody has to hang up their hat at some point," Carolyn said. "I have so many wonderful memories, and I'll miss it all—especially the people."
While Carolyn's plan was to finish out 2020 as a volunteer, the COVID-19 pandemic sped up her timeline for retirement. After adjusting to her new schedule, she is enjoying her "new normal" at home. Though she hung up her hat, she certainly hasn't hung up her earrings.
"I still dress as if I'm going to work, but I might be just going to Wal-Mart," Carolyn said with a chuckle. "I also plan to stop in to have lunch with friends at the hospital hopefully once a week."