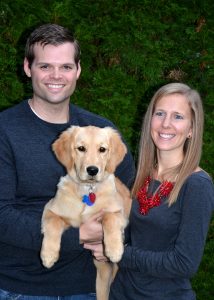 Meet Scott Smith, MD, an orthopedic surgeon and sports medicine physician at Riverview Health Physicians Orthopedics & Sports Medicine in Westfield. Dr. Smith joined Riverview Health in 2019 and is fellowship-trained in sports medicine. His clinical interests include arthroscopic and reconstructive surgery of the shoulder and knee, orthopedic surgery and sports medicine.
To get to know him better, we decided to ask Dr. Smith a few questions.
Q. Before you decided to become an orthopedics and sports medicine physician, what other career paths did you consider?
A. I honestly don't know what I would be doing if I didn't choose orthopedics and sports medicine. This is what I have wanted to do since I was in high school. My guess is I would probably be in a different medical field, but likely not as happy!
Q. What are your goals as a physician?
A. My main goal is to develop a practice with a reputation for treating patients well and cultivating a sense of trust. Developing a strong doctor-patient relationship is critical today, especially with all of the conflicting information people can obtain with a quick Google search. Long term, I would like to build a robust practice which cares for orthopedic patients of all ages—from young athletes to older individuals in Hamilton County and beyond.
Q. What does a typical week on the job look like for you?
A. I have a pretty typical schedule. I see patients at our clinic four days a week, and I perform scheduled surgeries one day a week. However, it isn't uncommon for me to operate on other days as fractures and other urgent cases arise. During the school year I spend an evening a week at Westfield High School. While there, I work with our great athletic trainers to take care of the school's athletes. On Friday evenings in the fall, I also have the pleasure of standing on the sidelines at the Westfield High School football games, which is always fun.
Q. How has COVID-19 changed things for you at your practice?
A. While COVID-19 has changed how we run our clinics, at the end of the day we still practice medicine the same way. We still see patients face-to-face, treat all of their urgent and chronic orthopedic problems and perform the same operative and non-operative treatments as necessary. The clinics have changed how patients check-in and we all wear masks, but the actual practice of medicine remains the same, thankfully.
Q. What do you love most about your job?
A. The best part of my job is seeing the positive influence I can have on a patient's life. Patients often forget what it is like to live without joint pain, and it is truly an honor to help them achieve their goal of increasing function while decreasing pain.
Q. How have your patients influenced your life?
A. Since I began practicing medicine, I have found myself becoming more empathetic to patients and their musculoskeletal issues. During residency training, young doctors are often so busy and stressed that it can be easy to lose sight of why you became a physician in the first place—to help improve a patient's health and quality of life.
Q. When you aren't seeing patients, what do you enjoy doing for fun?
A. What I enjoy most outside of work is spending time with family. I have a rambunctious toddler at home, so I don't have a ton of time for other activities. When I get the chance, I also really enjoy playing golf. Hamilton County has an abundance of quality golf courses, so I look forward to playing my way through them when I have more time!
Q. What is your favorite movie?
A. My favorite movie would have to be Caddyshack. I'm a fan of goofy comedies, but my wife doesn't like watching it them with me because I end up quoting most of the lines!
Q. What is your favorite genre of music?
A. I really enjoy rock music—or anything with good guitar. My favorite bands span from Led Zeppelin to Metallica and everything in between.
Q. Do you like to read for fun?
A. I love to read, but with a toddler it's hard to remember the last book I read for enjoyment. Currently my library consists of literary classics such as Where's Spot, Chicka Chicka Boom Boom and anything by Dr. Seuss.
Q. Do you have any advice for students who are interested in pursuing a career in orthopedics and sports medicine?
A. The best advice that I can give students interested in orthopedics and sports medicine would be to get involved in the field early to determine if it is right for you. I recommend shadowing physicians and athletic trainers and volunteering at large sporting events such as marathons.
To schedule an appointment with Dr. Smith, call 317.770.3777.