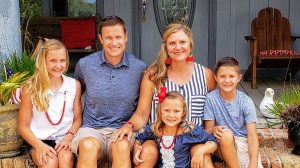 Meet Andrew Malin, MD, an orthopedic surgeon at Riverview Health Physicians Orthopedics & Sports Medicine. Dr. Malin joined the Riverview Health team in August 2020, and practices at Riverview Health Physicians Orthopedics & Sports Medicine in Noblesville. Dr. Malin is a fellowship-trained hip and knee specialist, performing a high volume of minimally invasive hip replacement, knee replacement and partial knee replacement surgeries. He also treats sports injuries, fractures and performs arthroscopic and reconstructive procedures of the knee and shoulder. As a new member of the orthopedics and sports medicine team, we asked Dr. Malin a few questions to get to know him better.
Q. Why did you choose your specialty?
A. I chose orthopedic surgery primarily because it allows me to have a positive impact on the lives of my patients. Growing up in rural Wisconsin, I always enjoyed working with my hands, and I take pride in mastering the technical aspects of surgery. My initial positive exposure to the specialty was through our football team orthopedic surgeon at the United States Air Force Academy.
Q. What was your experience at Harvard Medical School like?
A. Attending medical school at Harvard was a great experience as I was able to learn from world-renowned experts in various fields of medicine. I had outstanding classmates, many of whom still I count on for professional advice and friendship. Also, my wife and I really enjoyed living in the Boston area.
Q. What makes you unique as a provider?
A. I am a graduate of the United States Air Force Academy and had the privilege of serving my country as an active duty officer and orthopedic surgeon for nine years. This included two tours of duty in Afghanistan as part of the Air Force Special Operations Surgical Team. I was fortunate to care for our nation's heroes both at home and abroad. In addition, treating severe injuries in dangerous environments allowed me to hone my surgical skills in situations of tremendous stress.
Q. What made you decide to join the Air Force?
A. My grandfather served in the Navy during World War II. His stories inspired me to want to serve our nation as well. In addition, my father was a private pilot, and I thought that becoming an Air Force pilot would be an interesting career. Finally, the Air Force Academy offered me the option to play Division I football, which was another goal of mine growing up. Overall, I loved being in the Air Force. Caring for military personnel was rewarding, and we were fortunate to meet many great Air Force friends along the way.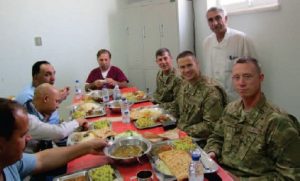 Q. Can you tell us about your experience in Afghanistan during your two tours of duty?
A. In Afghanistan, I served as part of the Special Operations Surgical Team. Our main mission was to provide emergency mobile surgical support for special operations soldiers conducting missions in more remote parts of the country. It was a great privilege to provide care for our most elite soldiers. I was inspired by their selflessness, skill and dedication. We also spent much of our "down" time providing humanitarian care to Afghan civilians, including many children. Although the environment was somewhat dangerous, we were deployed with very well-trained, dedicated soldiers. Working with them inspired confidence and allowed me to focus on my job as a surgeon.
Q. What is your practice philosophy?
A. I believe it is most important to listen to patients and understand how joint pain is affecting their life and activities. This information allows us to discuss treatment options and tailor our shared treatment decisions based on specific goals. I always consider nonsurgical as well as surgical options. Treatment without surgery is often possible, and I will make every effort to treat conditions in the least invasive, most effective manner. If surgery becomes necessary, I want my patients to feel informed, comfortable and entirely satisfied with every step of the process.
Q. What are some of your hobbies?
A. Away from work, I try to spend as much time as possible with my wife and three kids. It's been a lot of fun to coach my kids' sports teams and participate in scouting activities. I enjoy community service and have served as a volunteer board member for various youth sports organizations. I really like good food, and—because I like food—I spend some time jogging or riding a bike for exercise! Finally, I am trying to get better at fishing and woodworking.
Q. Are you excited to settle down in Hamilton County?
A. While my family and I loved our time in the Air Force, we're excited about moving to Hamilton County. The area offers tremendous infrastructure and strong Midwestern values, ideal for raising our three children. After a relatively transient life in the military, my family and I are looking forward to settling down for the long term. Partnering with Riverview Health will allow me to provide outstanding, patient-centered care, and I'd really appreciate the opportunity to serve your orthopedic needs. Please stop by and say "hello!"
To schedule an appointment with Dr. Malin, call 317.770.3777.