If you were suddenly diagnosed with a serious illness or medical problem, you'd probably book the first appointment to seek out guidance and treatment from your healthcare provider, right? Pregnancy––though a temporary health condition––shouldn't be any different.
Finding maternity care and an OB/GYN doctor is even more important as the maternal mortality rate in the United States has continued to rise for the past several decades, according to the Centers for Disease Control and Prevention (CDC).
Valerie Gathers, MD, Riverview Health Physicians OB/GYN in Westfield, wants all her maternity patients to feel at ease when they come in for an appointment, and she encourages them to get an early start on obstetric care.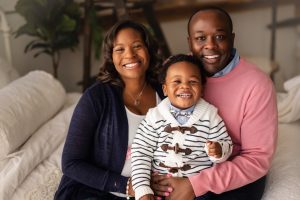 "Being pregnant is exciting but there's a lot of scary things, too," Dr. Gathers said. "As someone who has had two high-risk pregnancies myself, I felt it was extremely important to have a good relationship with my doctor. So, that's someone I strive to be for my patients so they can really feel comfortable talking with me."
In addition to a high national maternity mortality rate, the CDC finds that African American women are three times more likely to die while pregnant or within a year of pregnancy than white women. Studies show that health outcomes in Black patients are improved when African American patients are treated by African American healthcare providers. Only about 5 percent of active physicians are Black, and 2 percent are Black women. As a member of the Association of Black Women Physicians, Dr. Gathers is committed to making sure Black OB/GYN patients feel heard during their doctor's appointments.
"A lot of times there are conditions that more commonly affect Black patients," Dr. Gathers said. "So, I can draw on personal experience of 'This is what I know because people in my family have had this,' versus something I read in a textbook."
Establishing prenatal care is crucial as pregnancy, labor and delivery come with multiple risks that can endanger the life of a mother and her unborn child.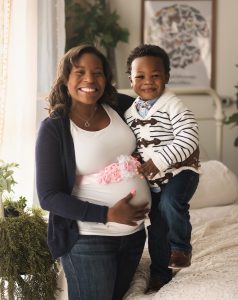 "There could be many reasons why a woman doesn't seek or keep up with maternity care," Dr. Gathers said. "Whether it's a matter of assuming a second pregnancy will go as smoothly as the first, needing transportation or childcare, or having a concern about medical bills—we want to make sure you feel comfortable and you're getting the care you need."
No two pregnancies are exactly alike. By keeping up with your routine obstetrics appointments, your OB/GYN can keep an eye on:
Your blood pressure. By taking your blood pressure, your provider can monitor you for high blood pressure, which can be a sign of preeclampsia. Preeclampsia and eclampsia are very serious conditions that can cause harm to you or your baby.
Your blood sugar. High blood sugar during pregnancy is a sign of gestational diabetes. You'll take a glucose test between weeks 24 to 28 of pregnancy to test for this condition. This can affect women who've never been diagnosed with diabetes, and it goes away after you give birth.
Your urine. By collecting and testing a urine sample, your doctor will be able to keep an eye out for infections or protein, which could be signs of more serious problems.
Fetal heart rate and growth. Checking your baby's heart rate and tracking growth and movement will help your doctor know if your baby is developing properly or in distress.
Looking for an OB/GYN physician? Located just north of Indianapolis and Carmel, Dr. Gathers sees patients at Riverview Health Westfield Hospital and Riverview Health Noblesville Hospital in Indiana.