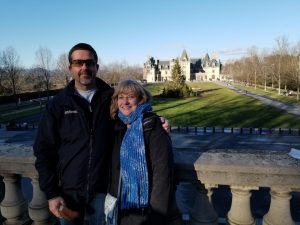 For most, pain is something that can be dealt with by taking an occasional over-the-counter medication. But for others, treatment of chronic pain can become a complex issue—taking a toll both physically and emotionally. Unfortunately, this was the case for Angie Purcell.
Angie has lived in Hamilton County for over 30 years. She loves spending time with her family, singing with her church praise team and playing piano. Angie also works full-time in an office setting, and pain was beginning to influence the way she was living her life.
"I have chronic kidney disease, so I can't take any anti-inflammatory medications," Angie said. "Because of that, almost any sprain or minor injury can sometimes lead to ongoing pain because I can't just pop a few ibuprofens to help get the inflammation down."
After a past surgery left Angie's hip damaged, she began experiencing a consistent, nagging pain.
"I had physical therapy to try to correct the issue, but it never really could," Angie said. "It wasn't excruciating pain—it just never really got better."
Throughout the years, Angie was forced to use the occasional steroid pack to help with short-term issues. However, due to the side effects of steroids, Angie knew she didn't want to rely on them long-term.
"I also had lower back pain from minor arthritis that—again—with an anti-inflammatory would have been fine. But since I couldn't take anything, it was giving me issues," Angie said.
After physical therapy was unable to correct the issues with her hip, Angie was referred to Dr. Pawan Sethi at Riverview Health Interventional Pain Center.
"Angie was one of my first patients I saw when I started my practice at Riverview Health," Dr. Sethi said. "We had new staff, new equipment and a new clinic. It was a pleasure to treat her, and she was very understanding of us throughout the process as we adapted to our new clinic."
To treat both her back and hip pain, Dr. Sethi would use a combination of injections and radiofrequency ablation.
"Our lumbar and cervical spine has three basic ways it can support our spinal cord and nerves that exit: these include muscles, disc and facet joints," Dr. Sethi said. "We ask patients to eat healthy, live a healthy lifestyle and exercise to maintain the integrity of muscles and discs. However, if the muscles decondition and discs degenerate due to wear and tear, our facet joints become arthritic. One way to treat arthritic joints in the back is by using radio-frequency ablation procedure."
Radiofrequency ablation is a minimally invasive procedure that is used to deactivate tiny nerves that sense pain from facet joints. After the treatment, patients can usually have pain relief for six to 12 months.
"After treatment, this time is best used to regain functionality, build core muscles and reduce taking medications that have side-effects," Dr. Sethi said. "This procedure has very few strict contraindications, therefore, it is deemed safe and effective for a wide patient population."
To Angie's relief, the treatment worked.
"Radiofrequency ablation stopped the pain entirely for over a year, and even now it is at a place that if I keep my back stretched then I don't have any significant pain," she said.
For her hip, Dr. Sethi utilized steroid injections.
"Steroid injections are used for nerve pain and can also be used for various arthritic joints and muscle pain," Dr. Sethi said. "Steroids work as an anti-inflammatory medication. They are more effective, however, as injections are targeted to a diseased area rather than taking medications orally that have a systemic effect and side-effects."
For Angie, the injections improved her joint pain and hip pain. And while she says it doesn't take the pain away completely, it is now at a place where she does not have a constant, nagging pain.
"For my hip, I just contact Dr. Sethi every time the pain starts really kicking up again and we do another steroid injection," Angie said. "As far as my back, I can go back in and have another radiofrequency ablation at any point if the pain starts significantly again. But at this time, I am just maintaining through stretches I received at physical therapy."
Moving forward, Angie knows she has Dr. Sethi and his team beside her to help when she needs it.
"Dr. Sethi and his entire team are amazing," Angie said. "They are kind and friendly. They all make sure to explain the procedures that are being done and what the goal is. They call and check up on you after a procedure. They have always worked hard to get me in quickly. Dr. Sethi's goal is to help with your pain and to make sure that if you are referred to a surgeon, it would only be in cases when he really feels that by doing so you would have a better outcome than by simply treating the pain."
As for Angie and other patients like her, Dr. Sethi said it is important to find a balanced pain management solution that works with their lifestyle and to regain functionality.
"I discuss various treatments with patients that I can perform," Dr. Sethi said. "If there is some other treatment that might help them that I don't offer, I can refer them to an appropriate provider. Angie wants to avoid surgery and remains very active. She has a busy schedule and has family members who depend on her. I have helped tailor a treatment plan that works for her, and she always knows that we are only a phone call away."