By Polly Trainor, MD
Riverview Health Physicians OB/GYN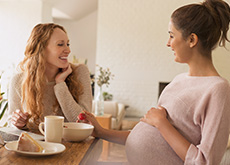 When you're pregnant, you're eating for two, (or more with multiples!) but that means eating extra in a healthy way—not just more. But how much more is healthy? And is coffee OK?
The general rule is that pregnant women should eat an extra 300 calories a day. Of course, that depends on your weight before you get pregnant. If you're overweight, you may need less. If you're underweight, you may need more. That's why it's so important to talk to a healthcare professional who can help you determine what's best for you and give you guidance about prenatal vitamins.
All about the food groups
When it comes to nourishing your growing baby, remember the food groups when you're planning your meals and filling your plate. Another good tip: Eat foods from the five food groups at every meal and try to fill your plate with as much color as you can!
According to the experts at the March of Dimes, here's how MUCH you should be eating:
Grains:
6 ounces a day in the first trimester
7 ounces in the second trimester
8 ounces in the third trimester
1 ounce equals a slice of bread, 1 small tortilla, ½ cup of cooked rice, cereal or pasta
Vegetables:
2 ½ servings a day in the first trimester
3 servings per day in the second and third trimester
1 serving equals one medium baked potato, 1 cup of vegetable juice, 1 of cup cooked or raw vegetables or 2 cups of leafy greens like lettuce
Fruits:
1 ½ to 2 cups per day in the first trimester
2 cups per day in the second and third trimester
½ cup of fruit equals ½ cup of 100-percent fruit juice, ½ cup of fresh, frozen or canned fruit or ½ a fruit, like a small orange, apple or banana
Milk products:
3 cups per day all throughout pregnancy
1 cup of milk product equals 1 cup of milk, 1 cup of yogurt, 2 small slices of cheese or ½ cup shredded cheese
 Proteins:
5 ounces a day in the first trimester
6 ounces a day in the second trimester
6.5 ounces a day in the third trimester
1 ounce of protein equals 1 tablespoon of peanut butter, ¼ cup of cooked beans, 1 ounce of lean meat, poultry or fish, 1 egg or ½ ounce of nuts. The best fish choices are low in mercury such as shrimp, salmon and canned light tuna
What about caffeine?
As for the caffeine found in coffee, soda, tea and especially energy drinks, it's best to keep it minimal. There's simply not enough known about its effects on your baby. Keep your caffeine intake less than 200 milligrams a day, about the amount in one 12-ounce cup of coffee. Be sure to check the size of the cup so you know how much you're getting.
Remember, there's also caffeine in chocolate and even some pain-relief medicines—another good reason to talk to your healthcare provider about what you eat and all the sources of caffeine you may encounter during the course of your day while you're pregnant or breastfeeding.
 Source: March of Dimes
---