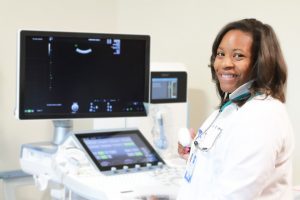 It's not very often a child decides their future career at 6 years old. Many children aspire to be a police officer, a firefighter or a doctor – but change their minds as they get older. And many young adults set off for college with a career path in mind – only to change their major later. For Riverview Health Physicians OB/GYN Dr. Valerie Gathers, though, that wasn't the case.
Dr. Gathers was always interested in caring for others. With her mom having a background in social work and being a homemaker and her dad, a teacher, it just came naturally. So, the dream of becoming a doctor wasn't implausible.
When she was in the first grade, she distinctly remembers her best friend's mom being pregnant. When her friend's mother eventually gave birth, Dr. Gathers was fascinated by the stages of life. It was then Dr. Gathers knew she wanted to be a doctor.
Starting in middle school, she hit the ground running. Dr. Gathers volunteered in hospitals and read books about pediatric hematology. She was inspired to help children with cancer.
"For me, it was always pediatrics," Dr. Gathers recalled.
Dr. Gathers completed her undergraduate degree at Indiana University and soon went on to get her master's in physiology and biophysics at the University of Louisville, with medical school and pediatrics still on her mind. She would stay in Kentucky when she was accepted to study medicine at her alma mater, the University of Louisville.
While in medical school, Dr. Gathers completed a rotation as a first-year medical student and that's when her mind started to shift from pediatrics to obstetrics and gynecology. During her rotations, she experienced the joy of letting parents hear their baby's heartbeat for the first time. Just when she thought it couldn't get any better than that, she delivered her first baby. That's when Dr. Gathers knew she was "bit by the bug" and she decided to pursue a career as an OB/GYN.
Dr. Gathers also loved having the ability to care for multi-generations of women.
"I have patients where I've delivered their babies and did their mother's hysterectomy," Dr. Gathers said.
Today, Dr. Gathers has been practicing medicine for nearly seven years. She loves being able to provide comprehensive care as well as minimally invasive procedures to women so they can get back to what matters to them most as quick as possible.
Being an OB/GYN allows her to be a part of a woman's health for all different stages of life ­– from periods to menopause. She's learned that being an OB/GYN is more than having a relationship with just her patient, and that's one of her favorite parts about her job.
"It's a family relationship," Dr. Gathers explained. "Not only do I know my patients, I know their partners, their mothers and sometimes even their grandparents."
Creating relationships with her patients and their families is something Dr. Gathers focuses heavily on.
"I treat all my patients like they're my mother, sister or best friend so I can try to really develop a relationship with them," Dr. Gathers said. "I like to know about them and their family's health. That way, we are able to come up with the best solutions for their healthcare."
Now that Dr. Gathers has achieved her childhood dream of becoming a doctor, she hopes to continue to expand the Riverview Health Westfield Hospital OB/GYN office.
"When I came to Riverview Health, one of the major initiatives was to open the OB/GYN office in Westfield," said Dr. Gathers. "It's been very exciting because I'm serving to a population that's growing. It's been so great to meet people from Westfield and the surrounding areas."
As a resident of Hamilton County, she loves that we have a county hospital that nourishes the needs of our community. Dr. Gathers values the close-knit relationship between physician colleagues and staff, which is why even she chooses for herself and her family to use Riverview Health.
For Dr. Gathers, practicing medicine is more than just a career. Instead, it's about creating meaningful relationships and ensuring personalized care for every patient – making her someone who was truly made for medicine.